PerfectHentai.com Review
PerfectHentai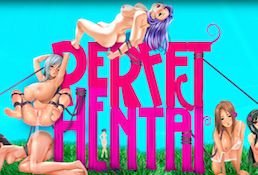 PerfectHentai, probably the best porn site around offering great hentai videos.
00000
PerfectHentai Review
Website Intro
Ok fellas! We're here once again for another hot review of those sites that makes life HARD! Now I know most of ya'll are fond of watching real life porn. Maybe most of ya'll are even making porn no doubt. So today might be a new experience for you because we ain't gonna be reviewing the same old porn that you used to watch on the net. No not that one. Today we're gonna be talking about this site about Hentai Porn. WAIT! Before you click on that exit button! Hear me for a moment! At first I've been an avid fan of porn myself and told myself "Cartoon Porn? That's not even close to the real thing!!!". But you know what I did? I decided to give it a chance.
Now here I am, scrubbing every new episode, and enjoying every aspect and hot stuff of hentai within this site called PerfectHentai. You see, on this site it's not all Anime Hentai, there's actual girls in it as well! Real girls that fuck real man. As I'm sure that captured your attention, why not give the anime hentai a chance as well? Who knows? You might just find your next addiction! But beware! Getting hooked on hentai anime is a real time killer! Well I won't be holding you for long, so I'll make sure to chop it down so you'll be able to swallow the whole websites with just a few words!
Website Layout
First off! Let's start with the ever favorite Homepage! After hitting enter on the address bar, you'll be seeing a lot of red, pink and white designs throughout the page. There will also by a classic anime drawing of girls wearing sexy animal costumes. Down below is collection of the latest videos to enter upon the realm of PerfectHentai. These videos are continually being updated every day. Here's another good news, once you finished registering as an official member, you'll have free access for other porn sites as well like Totally Redhead and Exxxcellent. Now these aren't cartoons but I never said anime are boring.
The Categories of this site is not that many, it's actually quite simple. It's up to you if you want it categorized by topics, or by series. Most anime hardcore fans would love it categorized by series. The storylines and the fuck scenes are just amazing. So if you're planning to explore the categories they are namely, Lesbian, Japan Girls, Manga and Comics, Softcore, Hardcore, Flash Magazxines, Movies and more. Oh by the way, that Live-Action thing I was talking about? Where you get to see them fuck in real life? You'll easily find it in the Japan Girls page. It's really amazing how well optimized and simplified their site is. Oh by the way, if you're using mobile devices or tab or even iOS devices to access their site, you are free to do so, they have made their site accessible and completely optimized for all devices. Last feature that I'm sure you'll love is the Streaming DVD Theatre. Do you know what's the other thing that makes a site really interesting and keeps fans coming back? It is the community! This feature allows the viewers/members to come together and witness a hentai movie in real-time. You can even interact with your fellow watchers if you want to! If you're lucky, you might even find someone you can practice those moves with onsite! No one's stopping you!
Website Content
Why watch anime hentai? Because it's going to be a whole new thrill and exciting experience. I know real porn is great, but watching hentai animation as great as the ones on this site is fucking addictive. Here's a little secret for me and you. On hentai anime, age doesn't fucking matter who the guy is fucking with, you get what I mean? Say goodbye to all the limitations and prohibited stuff. In Anime Hentai, everything is allowed to happen here. Hell, you'll even see stuff you'll only dream of happening in a real porn! Plus, anime are actually quite cute! These girls will show off real attitude that would make you want to hug them and soon want to respect them and soon enough, want to just throw them on the floor and fuck them crazy. Also, you'll just fall in love with the voice acting!
You've seen a lot of Japan Porn right? If you like those types of porn, then you'll just love the voice acting in the hentai anime. It's really so alike! Plus, the emotions of these anime are very smooth and nicely rendered! You'll really feel them as they fuck! Especially from the top anime hentai of today entitled Servant Princess! Picture out a princess, all royal, high mighty and stuff, soon to become the next queen, but once she enters her room, in the middle of the night, some hardcore stuff is about to go down! Those kinds of stuff don't happen in real porn. Too much props and set up. But here in anime hentai, it's all happening I tell you! Give it a try mate. It's something you'll never regret. I know I haven't.

In Few Words
So far so good with PerfectHentai, but how does it match up with other hentai porn sites? Actually as of this year, PerfectHentai is in one of the top sites for Official Paid Hentai site. It's simply because it has Live-Action for hentai series. I mean, who does that? It's really unique and very attractive at the same time. Other than that, their website has top-notch performance as well. Very smooth for all devices and has great navigation that will easily lead you to where you want to go! So if you're looking to start with hentai and fall in love with some amazing beautiful Japanese women, PerfectHentai is the place for you! As for my ratings, this one will get a 100/100 from me!
How much costs enter PerfectHentai site?
3 days $1.00
1 month $29.95
3 months $59.95