Zenra.net Review
Zenra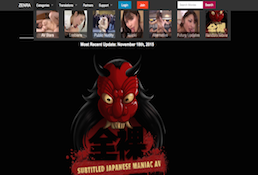 Zenra is a big site that offers many Asian porn contents.
00000
Zenra Review
Website Intro
Zenra features Chinese, Japanese and Korean adult hardcore movies. The content includes exclusive and non-exclusive movies of both amateur and professional stars. To be a member, you will be required to pay a monthly recurring fee or a 3-month recurring fee.
Website Layout
Zenra's design is distinctly different from many other adult and even Asian porn websites. It is designed to be easily consumable by Western audiences, particularly those who speak English. It therefore makes an effort to be descriptive and easy to understand. Every scene has a description of what is going on in the movie. The posts are arranged in a top to bottom format almost similar to a blog's list. Each post has a short description and thumbnails. The post also has a sticker that indicates whether the movies are exclusive, censored, subtitled or in HD. It is common to see pixilation of parts of the video in East Asian porn, and this is common in non-exclusive content. The site allows visitors of the site to see almost all the previews of the scenes. The only thing that visitors cannot see is the full length movies. This way, non-members can gauge the site's content and determine if it is worth their time. With a click on the "click here to watch free trailer" button, a video screen will pop up with a short version of the videos. Not many adult sites have the confidence to offer as many previews of their movies. The easiest ways to get to any part of the site is through the main menu at the top of the screen. They have listed everything including ToS and the different categories. The best way to find any video is by entering a term such as "lesbians" or name of the model in the search box given.
Website Content
Zenra features authentic Asian amateurs the majority of whom are Japanese porn stars. Some of the famous porn stars include names like Momoko, Shion Natsume and Manami Kitagawa. Shion Natsume is not your regular Japanese actress. She is very well endowed with fairy large breasts. She does not hesitate to show off her big breasts. You will always see her playing with them or using them to hold a pen when drawing Japanese characters. Sometimes she will gladly let them be flooded with semen at the end of some of the scenes. The site has 5 main categories, Lesbian, Alternative, Public Nudity, Tekoki and future upgrades. Each category is quite diverse on its own. For example, the Lesbian Categories features a wide variety of lesbian porn than you would find on most adult websites. There are lesbian videos featuring femdom, women dressed in lycra throughout the scene, women in jail and women playing a variety of sex games. Future upgrades show videos that will be uploaded in the near future. Zenra upgrades its content every week with some times two or more new videos. The section simply shows a few photos and screenshots of upcoming movies. You can download trailers of these movies to get a taste of what is to come. Movies are over a 1000 in number. As a member of the site, you can either download in MP4 format, or watch them online. There is a mix of HD and movies of lower resolution. Each post indicates whether the movies are HD or not.

In Few Words
If you are a fan of Japanese and Chinese adult porn, this site is for you. The site has a fair amount of hardcore sex and common Japanese fetishes that vary from odd to bizarre.
How much costs enter the Zenra site?
1 month at $34.95
3 months at $90.00