XxxAtWork.com Review
XxxAtWork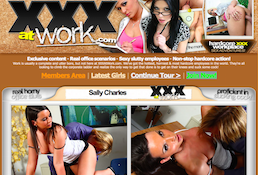 XxxAtWork has a massive library of high quality office themed porn videos.
00000
XxxAtWork Review
Website Intro
Have you ever had this urge to fuck your super hot, beautiful or cute (or all of those) workmate you have? To experience the thrill of office sex, where you try to have that kinky fun while also trying your best not to get caught? You get to see that kind of experience in this awesome porn site! Look up XXX at Work! At XXX at Work, you get to see porn stars acting like normal but really fucking hot office workers. They all want to climb the corporate ladder and realize that the quickest way is to get on their knees, suck some cock, and give a fuck! See exclusive, quality content of real office scenarios by sexy, slutty employees and non-stop hardcore action! You think work is boring? Think again! With XXX at Work, the workplace is a fun place, and all workplaces should be like that!
Website Layout
The website is trying to give you a tour. You get greeted by a Home web page that features a large space at the top to show what the website is all about, like the name of the website, its tagline, who are in it, a bit of a description of the website some accompanying fan service photos. Below that you can see videos handpicked by the administrators of the site. These are accompanied by really nice preview photos and enticing backstories. The photos use really good shots with nice camera angles to which show the pleasure on the face of the girls sucking cock, getting pounded on a table or anywhere in the workplace you can fuck a girl with, getting glazed or getting creampied. The backstories aren't on the slack department either, it's as if they're sucking you in (pardon the pun) to what you're in for with words, like describing JC Simpsons (really hot girl) and Brannon Rhodes are cubicle neighbors, and that they're about to go down the wire with some hot and steamy cubicle sex. All of these, the photos and the backstory, are designed with a folder background for a real workplace feel.
There's also a "Latest Girls" tab which shows a page of newly added models and their corresponding "jobs", the ones they act out on the scenes. For example, Sally Charles acts as the really hot administrative assistant and JC Simpson acts as the customer support, supporting customers on the front lines as well as the back. But wait, there's more! You can see more of these girls by clicking on the button below their job titles! Get to know them better! So you can see more of the tour but his site requires membership, and man, you get so many benefits when you do become a member! Once you do, you get to have unlimited download on all 40+ terabytes worth of videos, which means there are around 35,000+ scenes and up to 40 categories of those videos to be seen! There's also a Member's area, which has an easy to navigate interface, as well as advanced search options! You want to search all these words or a title with just these words exactly? Just type it down and bam! It's there. You want to look for videos that don't have these words? Just type out the words and you get results without those words. You ask for it, you get it. How cool is that? You also get to have free access to 90, count it, 90 exclusive reality sites. Talk about a bonus!
Website Content
Well, who are in it? The girls in this site are all smokin' hot porn stars, acting like they are in the workplace of some sort and getting pleasured and fucked hard, like the uber cute Jordana James playing as a horny secretary getting special treatment (and by special, you know what I mean) from her boss after her hard work (pun intended), the hot Asian bombshell Tia Tanaka as the new girl in the law office who get's fucked by her horny boss after asking her to proofread something, or Rebecca Linares who, due to language barriers, fucks a lawyer to demonstrate how she had been harassed at work. In fact, XXX at Work has a very in depth porn star database, up to 21,000+ models!
However, I just want to you people to get your attention to one particular porn star who I think is really underrated, but once you see her videos you can't stop watching! Turn your eyes to Riley Shy! This girl acts as a paralegal, wanting to be a lawyer but can't quite reach it yet, and so to get the easy ticket in, she uses her smokin' hot body! And damn! She fully delivers! She sucks cock, gets fucked on any hole, and makes a man cum like it was nothing while having the real face of pleasure! Her surname's Shy, but she's definitely not shy! Instead, she's able to rile men up! This girl just takes the cake, you guys should see her in action! In terms of video depth and quality by the way, you can see up to 35,000+ scenes in 40 different categories of videos, such as Anal, Creampie, etc. You can also see these in razor sharp video quality to help you have the best and most realistic experience available!

In Few Words
To conclude, I will just say that this site is really awesome. You get so many benefits on becoming a member, the easy to navigate member's area, the super massive library of videos they have (35,000+ scenes? Damn!), the really good quality of videos (as was said, razor sharp), the super hot scenes of super hot girls, and not just normal scenes, these are scenes on a workplace, a workplace I tell you! This site is worth being a member of. I rate it 10/10, and I would definitely visit it over and over again. You get to have the thrill of work sex on your screen and that is most definitely the biggest reason to join!
How much costs enter XxxAtWork site?
2 days for $1.00
1 month $29.95
1 year for $119.95