WatchOurWives.com Review
WatchOurWives
WatchOurWives has an incredible compilation of exclusive porn videos.
00000
WatchOurWives Review
Website Intro
This site has a very hot collection of porn, and there are many factors that make the WatchOurWives to be a recommended page. Though the site's name doesn't tell much, it hints about the content: there are wives in the videos, and it's not just you who can watch them, but since it's about swinging, there will be lots of participants. The sex taking place in the videos is real and hardcore, these groups are doing really well, and if you are looking for heavy elements, then this site is something you should check. The movies seem to be fully exclusive, and they are available only on this site, there is hardly any chance for you to find them anywhere else outside the network the WatchOurWives is part of. The site claims that it offers weekly updates, and that seems to be correct, considering the age of the portal and the number of flicks. By the way the site launched in 2001, and offers over 3,000 scenes. When it comes to bonuses, this site isn't shy, since it offers a huge compilation of porn videos, and apart from those, there is a lot more to see. First, there is the most important benefit of being a member: you gain full access to a network of sites, called MyAllAccessPass; and you can take this name literally. The network consists of nearly 30 hardcore porn sites, and though there are some overlapping content between the sites, they usually offer a really selective collection. This alone might be enough to worth a year of membership, but there is still more. You can find here so-called member parties, which feature actually home-shot swinger-parties of the members. There are also the regular bonuses like discounts, a store, and live cams.
Website Layout
The home page of the WatchOurWives is a bit weird at first, but as your eyes get used to it, you will see it as it is: a very rich, and tempting tour page. There are many pictures around the page, and they grant you some insight on the videos, thus you can build up a picture in your mind about what kind of content you might get here. There is a slideshow with large pictures, and as you may see on them, these are nasty parties, and the girls are going to get fucked by all kinds of guys. If the quality of the pictures is anywhere near the quality of the actual videos, then you are going to get some very good movies. Trailers are not available, but the preview the page offers will prove to be quite enough. Probably the only issue with the site is the totally unhelpful and hard-to-navigate inner section. There are no separated menus inside, and no search engines, tags or anything that could help you out with the content. However, if you learn to use the site, the strong content it offers will keep you busy, and you won't have time to whine about the navigation. You can only download from the site, embedded player is not available. However, you shouldn't worry and save the flicks because they are not that long and their size isn't so big. Anyway, if you don't want to download the videos, but you have good machine, there is a way to open them as stream. The easiest way is to use one of the top video players' browser-extension. Many scenes are in WMV, and if you have… let's say VLC installed, instead of saving, it opens the file. This way you can watch them without downloading, or preview them before you save them. There are over 1000 galleries of pictures, and apart from the video captions, you can find here standalone photo sets too. You can view these files in your browser, or you might save them in zip format. It's quite surprising, but the WatchOurWives has really cute mobile interface, which even looks better than the desktop version, and if you take a look at it, you might even find it better to use. This also ensures that you can watch your favorite group sex scenes anywhere.
Website Content
Most of the girls in these videos are amateurs, but some may be even considered as semi-professionals, because you will see some returning girls and couples in the videos. There is about a dozen of housewives who have their sexual adventures uploaded, the most well-known ones are Tracy and Double Dee. They are the stars here, but the amateurs are also hot and horny. Probably the biggest strength of the WatchOurWives – apart from the great number of videos – is that the girls are very varied, and they are open to try anything. There are usually natural beauties here, but you may find some nice fake tits and upgraded lips too. As far as the guys are concerned, you won't feel ashamed, since these are usually regular guys, with regular snake in their pants. Most videos are just happening, there is no script or stage – those who don't participate at the moment hold the camera, and when they got a hole, they pass the recorder to someone else. This might be a bit confusing at first, though it grants that home-made feeling which usually turns on guys like yourself. What takes place in these videos is really juicy and nasty: when you join, you will forget the sterile mainstream porn, and you will become a fan of this kind of pornography.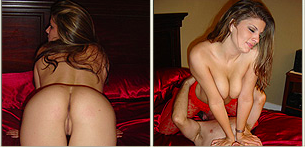 In Few Words
There are some very nasty things going on at the WatchOurWives, and you should certainly check out them. Every girl here is gorgeous, they have a great appetite for sex; also it seems that they like being swung from male to male, and as you can see, they especially enjoy when a black cock goes deep into their pussy. The already large collection seems to grow regularly, and with the extra amateur content it comes into a full circle: you can find here both types of porn. Naturally, you shouldn't forget the fact that there are more 29 niche-driven sites included in your membership.
How much costs enter the WatchOurWives site?
2 days $1.00
1 month $29.95
3 months $59.95
1 year $7.50/month