TheRealWorkout.com Review
TheRealWorkout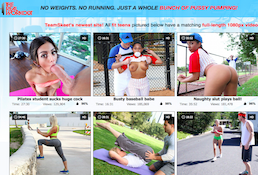 As a TeamSkeet site, the TheRealWorkout offers you porn videos in the fitness-niche shot in reality-style.
00000
TheRealWorkout Review
Website Intro
The TheRealWorkout grants you access to exclusive photos, videos of girls who just wanted to get fit, but instead they get to burn calories with man-milk going down their throat. Some girls here went jogging and never returned… without being fucked, while others were taken advantage of while doing the downward facing dog position during yoga. As you will see, even the weightlifting is something that can turn into hardcore sex at one point, thanks to the dirty fantasy of the guys at the TeamSkeet. This randomly updated site is online since 2008, and offers the members a collection of 70 scenes with fitness-themed porn. With a length of over 30 minutes, these videos will keep you busy for a good time, and in case you enjoy watching hardcore sex you might want to watch them all over again. Since it has a really arbitrary update schedule, sites like this usually have extras for the members, thus keeping them interested. This portal isn't different: there are live cam shows and promotional discounts in there, so you can have some fun with random girls from all around the world. However, the greatest feature the membership offers is the all-access pass to the TeamSkeet's collection of hardcore porn. You can decide if you visit the included sites one by one, or use the menus in the members' zone to get to the content you find interesting. What you get as a member of the TheRealWorkout is a collection of exclusive, high quality porn videos, along with an access to a great network of reality-porn sites. You get to watch here plain hardcore scenes with fantasy elements, but several series of the TeamSkeet cover fetishes, like short girls fucked by huge cocks, classroom-porn and uniforms, along with ethnic girls in interracial sex-action. Mostly offered in HD and Full-HD, with new scenes arriving regularly throughout the network.
Website Layout
The crew of the TeamSkeet know how to serve their products in a way, which will make them irresistible: they place big thumbnails featuring sexy moments on the tour page of the given series. It's up to you whether you find these pictures good enough or not. If you don't, then our advice for you is to visit the main site of the network, where you can enjoy some hot previews. By the way, the tour page is simple. Inside however, a more advanced portal welcomes you. It's an easy to use portal, however it has all options you would need to find the hot stuff quickly. The menu under the banner is the place where you can reach not just the site's content, but also the network's videos and the models database. The bonuses like the camera feeds and the discounts are also reachable from there. The Flash-video stream you can access from the members' zone is an SD one, but it looks good, and offers a really smooth playback. For the highest quality, you should download the MP4 files offered on the video's page. This way you can get DRM-free HD or Full-HD videos to watch. Concerning the mobile availability, you will see that the site has a really neat interface for you.
Website Content
The scenes of TheRealWorkout will make you sweat, that's for sure, but if you are not tired, you can exercise a whole lot more if you continue to look around the site's collection. When the girls are done with their chores, they hop on a cock and ride it to the peak of excitement. At least that's the premise of the videos. Browsing through the scenes' list will reveal a good number of hot girls you may have never seen before. With this being said you can expect the girls to try to do a bit of acting, you know some talking, faked surprise that all guys want to fuck them, though they were only running in shorts that cover only one quarter of their tits. These chicks are mostly semi-professionals, but you can find among them gorgeous professionals, who have dozens of videos behind their back. There aren't only Caucasians in these videos, however Blacks and Asians don't seem to appear here. Latina cuties make the collection varied and hot, and as you can see, there are many of them. For example, one of the scenes feature the amazing Giana Nicole, who is a brunette girls, who just turned 20 recently. You know what that means? She was under twenty when she started her career, and if you do your home-work on her you will see that she was already working with some of the biggest studios. The best thing about her is that she is fully natural, and she has medium breasts which look perfect, just as her ass, that she often gets penetrated. The scenes are not trying to overrule the foundations of reality-porn, so these are all scripted, staged and shot with care. As far as the crew's work is concerned, they did a great job with each movie, and the director's work is also good. These factors make the videos sexy and dirty at the same time, making your fantasies of fitness- and sports-related sex into reality. You will see that the girls are actually quite fit, and those clothes look great on them… though they don't have them on their body for too long. The niches covered in the scenes are the usual mainstream things, however you might happen to see some anal penetration and deepthroat in there.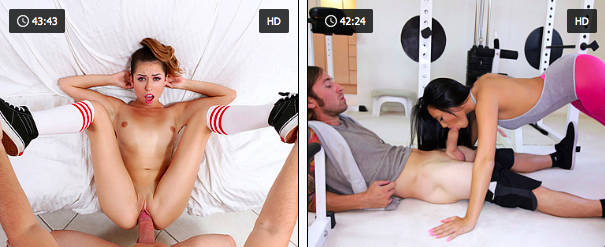 In Few Words
It's tough that the videos come in so randomly, because this niches is really hot, and those yoga pants look amazing on the girls in these scenes. The TeamSkeet is a highly valued member of the online porn industry, and though it's not a ruler, the videos this company provides are really hot, and you can get them all for a really good price.
How much costs enter the TheRealWorkout site?
2 days $1.00
1 month $28.97
3 months $16.62/month
1 year $7.98/month