TheLifeErotic.com Review
TheLifeErotic
TheLifeErotic is absolutely one of the best porn site to enjoy amazing softcore porn scenes and sensual models.
00000
TheLifeErotic Review
Website Intro
One of the hottest erotic porn sites, TheLifeErotic, offers amazing HD content with solo and lesbian scenes. Hundreds of videos and thousands of picture galleries can be at your fingertips to download or enjoy online. The models are breathtaking and the camera work does them justice like nowhere else.
Website Layout
The website has a large preview banner that shows you three scenes perfectly capturing what erotic is really about. While some sites confuse the term "erotic" with soft-core or teasing, TheLifeErotic understands that it's all about putting an emphasis on the female body, showing it in the best light, no matter what the scene is about. You can treat yourself to plenty of preview screens that come with ratings and names for the models. You also have testimonies sprinkled in between previews so you can see what other people think of the site.
The models page shows some information, but nothing too in depth. There could be room for improvement in that area. Movie updates, top models and featured galleries each have preview sections allocated, as you scroll down the page. Three membership plans with multiple payment options are available for those who wish to have full access to the website. Two one month subscription plans are the shortest and there is also a yearly membership. Each of the monthly ones is different only in the sense that one is recurring and the other one is not. All of these three subscription options offer the same level of access to the content on TheLifeErotic and the future updates. Everything can be downloaded in full HD and occasionally in 4K. The scenes aren't very long, but there are so many photos to enjoy once a scene is over. The website is user friendly on both the PC and mobile version, and support is offered seven days a week.
Website Content
Most of the girls are white. They can go from slender to average, but they never have too little or too much to show. It's like watching perfection over and over again, with different hair colors and hair styles. There are a few ethnic models too, but not enough to be worth diving into the subject. Regardless of skin color, they all have very similar bodies: great curves, slim waists and amazing facial features. Everything from picking the model, to makeup and lighting is done with the sole purpose to capture and highlight beauty above anything else.
As hot as some scenes get between the women, you'll often find yourself distracted by their sheer beauty. It is after all why most people look for erotic type sites. No mainstream pornstars will ever be this natural and hot. Because they focus on quality so much, it's no surprise that every video is HD and that some can be as high as 4K. There is no better way to showcase hot women than in crystal clear visual conditions. The picture galleries are also amazing and sometimes they can be larger in size than the videos. If you have a problem with this, you can opt to download MP4s in a lower resolution. The images are also resizable. Everything shows great attention to detail.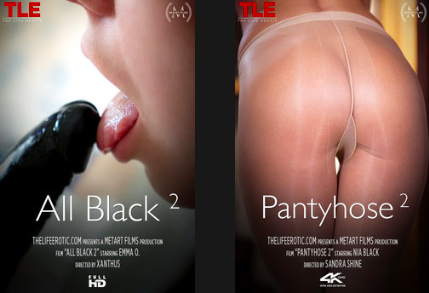 In Few Words
I don't think I've ever seen porn models as beautiful as these ones and certainly never so many on the same site. I also enjoy the fact that not all the scenes feature boring 5 minutes teasing videos or kissing. You can truly watch amazing masturbation scenes and lesbian sex that's not at all soft-core. All of this is done in a manner worthy of Hollywood.
How much costs enter TheLifeErotic site?
1 month $29.99
1 year $8.33/month