StripHilo.com Review
StripHilo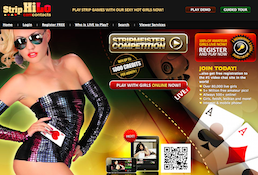 For card game and porno leisure, you can't go wrong with Striphilo. Try it!
00000
StripHilo Review
Website Intro
Poker is a famous card game which is not based on luck but rather skills and bluffing. To tell you honestly, I'm not into gambling but I learn this kind of game not because of the money. I tried to learn and master my own strategy and techniques because of live streaming poker games. Instead of money, the girls will strip off their clothes from head to foot every time you win the round. However, I case you lose the round, they will wear their clothes back and suffer defeat. This is why I always take risk in this kind of game since I have nothing to lose. It is a site that brings total fun, entertainment and live shows that you and I will enjoy. If you are not familiar poker game, you don't have to worry. I guarantee that the HiLo card game will be much easier.
Website Layout
The Striphilo is my kind of site that combines card game featuring some gorgeous girls involved. The site does not just offer girls stripping off until your dick is emptied. In order for you to see those boobs, lovely nipples, delicious pussies and tight asses, you have earned them by winning each round. The site is a combination of gambling platform and porn site. It is up to you, if you are going to put this site as gaming or porn category. But I know one thing for sure, you are going to like it. Grab your cigar, uncork that cold champagne, and prepare your snacks because the Striphilo porn site will take you to the world of online card games. I would say that this site is some kind of unusual compared to other porn sites. It is challenging enough to win over the round that provides porn leisure. There are no videos included which are usually available from common porn sites. But what made this site pretty much interesting are the live card HiLo games streaming. In here, instead of dealers and other professional gamblers, your competitor is a hot chick willing to get naked. The site allows you to play the demo game. Playing the HiLo round gives you the idea of the things you will expect once you become a member. You don't need to be knowledgeable in poker games, all you have to do is to predict the next card if it is higher or lower from your previous card. Whenever, you've got the right prediction, the girl will strip off her clothes. Keep in mind that this is not the live shows just yet. These are images featuring hot girls from blonde, busty, brunettes, MILF and Latinas. Aside from the demo, another thing that I would like to mention is that the site includes a free guided tour. Feel free to click on the guided tour button once you log in to the site. The tour will show you what the site is made of including the girls, the games and the gaming tips. Furthermore, the site offers free registration for anyone who wants to see hot girls getting naked. It is fast and it is absolutely free Of course, you have to verify some few things such as your active email address and your time zone. The free registration allows you to get involved in the games and have a great time staying in the site. As of today, the site offers 141,574 models waiting online. You've got the sounds, live shows, live text and streaming.
Website Content
You don't need to panic if you feel so horny at night. With so many models available, I am sure that you will find the best models according to your preferences. I can say that most of the models are indeed lovely presented at the search page. You have the chance to play with hot HiLo blonde chicks, Latinas, African American girls, Europeans and redheads. I am so excited playing with some of the girls available. My only problem is, there are so many of them. My fingers are shaking and my dick is already fully erected. As soon as I managed controlling myself over my sexual urge, I start my Striphilo game experience. In here, the girl I've chosen brings four pieces of clothes to the table including her skirt, panties, shoes and stocking. This is where the money will be involved. The girl I've chosen has a rate of $1.50 per minute. Admittedly, this may cost a lot, but because of her picture perfect face and sizzling body, hell with the money and start the game. In here, you will be given series of cards. You have to predict the next card if it is higher or lower than the previous card just like the demo. If you are lucky, then she is going to strip of her clothes and the fun continues until she is fully naked. I highly recommended concentrating to the game rather than sending her messages using the live chat. Keep in mind that the time is running and you must be able to defeat her to satisfy your earthly desire. I like the way she smiles back at me and whenever she loses, she would send me some sensual messages. My experience is actually fun and I would love to play the HiLo card game with her again. I'm hoping that she will be available tomorrow night. Oh, by the way, I won the round and I see every delicate part of her body.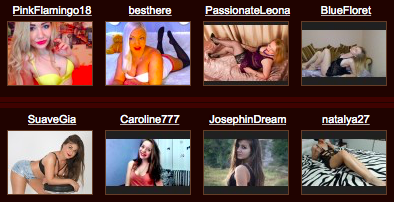 In Few Words
It is nice to know that there is a site that features this kind of gimmick and girls. All in all, it is an awesome experience playing with a hot chick on live streaming.