SocalPornSlut.com Review
SocalPornSluts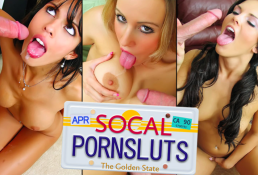 SocalPornSlut offers amazing slutty chicks that love to be fucked all the time.
00000
SocalPornSluts Review
Website Intro
Socal Pornsluts is the name of a United States' based website featuring pornstars specifically from Southern California. Here you will meet hot, sunbathed chicks in their Californian Barbie look as typical as possible. These specialists know how to do exactly what a slut does but better! Dumb and clueless, they seem to be talented in one thing and that thing only, that is, to suck and fuck a dick! If these are the kind of bitches you like to see in full disgrace then you have come to the right place. Membership to this hardcore porn website will give you access to more than ten other sites, as well as images and videos in high definition! Ability to fast stream and download as well additional access to their live cam sluts! With daily updates across the network, you will get to watch these sluts until they take all the juice that is left in you!
Website Layout
The layout of this website is daring and provocative. In high-quality professional images the main page is fully loaded with Socal sluts ready to set you on fire. Open mouthed, standing in front of huge cocks or getting fucked by one, these girls will make your mouth water as your penis gets a boner when looking at these horny cunts. Besides getting to see these model looking hoes doing all sorts of kinky things on photographs in their Home page, once clicking at it, you will be redirected to their video and profiles where you'll then get to mesmerize over that crazy cunt even more. You will also realize that besides your penis, another thing that will get hard is actually choosing which pussy to watch as they all look more banging than the other! Navigation is easy, at the top menu, you are given a search tool where you can browse over top lists, most viewed or through an alphabet where you can look for stars by their name. Here you will also find the banners that give you access to additional sites of the network. For new updates, you can look into the calendar to browse over which girls you'd like to see getting fucked that week! I got to say though that of all things in the layout design, the best part is the horny pictures you get to see as you search for your slut- these will definitely make your hunt more enjoyable!
Website Content
As said before, choosing for a girl is going to be difficult as the videos come with sexy pictures that look each one more horny than the other. Once you finally choose you will also see that along the video there is also a gallery of images with the best scenes on it. In all good quality, you'll see these slutty chicks doing some great things. Most of them liking to act dirty and responsive to the guy they're fucking. There is an example in a video where the guy tells the girl he wants to drown her head in the toilet and get her to give him a blowjob. As expected, the mindless bitch decided to do it. It is kind of funny to watch how oblivious some of them are. I really enjoy that for each video there is a preoccupation in chatting to the girls first, as they are filmed sitting on the couch or standing against the wall. Most of them flirting and responding to demeaning questions by keeping that stupid look in their pretty face. Now, it's time to talk a bit more about the appearance of these hoes. Here you can find sun tanned chicks, some more natural looking than others. Although pornstars, I got to say that these girls look more model like than pornstar. They are not like the super equipped pornstars who dress up with lavish lingerie and makeup. Almost all of them look quite fresh, aging somewhere in their twenties and have looks closer to the Beverly girls in the film Clueless than to that Pamela Anderson pornstar look one would usually expect. Their tits are normally perky and the rest of their body is in no doubt amazing! I guess you are now probably waiting to hear more about the action. Most of these girls know how to do it exactly the way these men tell them to do. If he tells her to suck his cock, they will suck it until he gets tired and starts fucking her ass. No objections, they will do everything in front of the camera. I know you are now thinking "but of course, they are pornstars, duh!" Yes, but usually one is used to seeing that pornstar who takes bigger initiative and enjoys fucking his brains out. But these are different, they are keener in listening to commands and doing what their man says. But don't let that mistake you in thinking that this makes them boring, this is much to the opposite! Once doing it, they do it good- sucking like hungry cock monsters as if they can't get enough. Riding that dick like they just don't care and slurping that jizz as if there is no tomorrow. You wouldn't want to miss that for the world!

In Few Words
What is great about these porn sluts is that although they are pornstars, they still carry a look that is fresh and manageable for guys to handle. They are crazy just as much as you want them to be (or actually, as the guys in the videos want them to be). Who would expect that that a twenty-two year old would know how to fuck just as much as a pornstar with more experience would know to? These bitches are definitely down to fuck but they're surely not just there to fuck around. You will see that once doing what they are asked, they will get to your head and straight to your dick making it hard to resist any cumming temptations!
How much costs enter the SocalPornSluts site?
1 day $1.00
1 month $27.95
3 months $59.97