SeeMyGF.com Review
SeeMyGF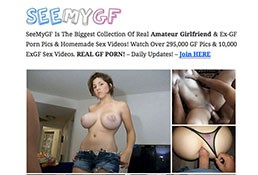 This site provides access to the best collection of home-made hardcore porn videos.
00000
SeeMyGF Review
Website Intro
See my GF claims to have the largest collection of home-made hardcore porn videos and a huge picture gallery with nearly 250,000 pictures. Let's take a look whether it's true or false. As far as it can be found from the information-morsels throughout the Internet, the site may be the real deal when it comes to amateur porn. In the texts that are placed throughout the tour page, See my GF says that it has over 10,000 videos available, but after some research it seems that it's a bit of an overstatement, and the truth is that there are nearly 4000 porn videos featuring amateur cuties from all around the world. Don't consider yourself with the numbers however, because the user-submitted content always varies, some videos go up the net, while others are taken down when the girl or the guy requests it.
It's still a large collection, and many videos that you can access through foolish and scummy network are collected here, on this particular site. The picture collection is still rather large, there are over 5000 picture sets, consisting of an inconsistent amount of photos and screen caps, so the 250,000 pieces of pictures is not an overstatement. Since it's a site offering only user-submitted videos, you will find a lot of updates, and if you have a video, you can submit it in the members' area, and see how many people are going for it. The nature of the content makes it impossible to offer only exclusive videos, and that's why you may see things that you have already seen on other sites, offering amateur and purely home-made porn videos.
The site is still a good choice because it has a large collection, and the content may not be exclusive, but you can find almost all amateur videos and pictures at one place, without joining a network with recycled content. When something is uploaded here, it will be something you never saw on this site.
Website Layout
See my GF has a layout that you will see when you land on the tour page, and you may find it a bit weird. There are no menus available on it, and its separated into two sections: the right side of the page has thumbnails (galleries in fact) and some videos (yay!) that you can watch without being a member, while the other side of the page has the promotional texts, that seems to be a bit overstuffed with keywords. Inside, in the members' area you won't find options to sort the videos, and there is no search engine, but with the long list, you can easily browse through the content. There is a main menu where you can reach the videos, the pictures and some promotional offers to other pay sites.
Another important thing is that there are no advertisements in the videos' list, only some banners at the bottom of the page. The videos are uploaded in various forms, and you can download them in the original format, so you can have WMV, AVI and MP4 files. Naturally you can watch everything in the browser. The pictures can be downloaded in ZIP format, and they're also available for online viewing.
Website Content
You must love fresh chicks with fit bodies and on See my GF you will find so many homemade movies with beautiful girls! All the models are real amateur beauties, girlfriends that love to fuck while they are being taped. You can find on See my GF some wild redheads with huge tits, some blondes with great asses or some cute and innocent brunettes. You will like them so much, because these women fuck with anything that moves. These chicks are so horny and ready to take their panties off when they see a big dick that can drill their pussies hard and fuck their tight asses. These girls have passion for a wild fuck and love to swallow all the hot cum as a reward for a perfect blowjob to a fat cock!
The coolest chick from See my GF is an incredible fresh brunette with the biggest natural tits you have ever seen! Her name is Laura and the slut cheated on her boyfriend so the guy uploaded all the porn movies with her on See my GF! That woman has a big ass and everything about her is perfect, no wonder that all the guys want to fuck her. The videos with her are so sexy, because those tits jump up and down when she is being fucked and that's so hot! You can see her deepthroating a big dick, making anal sex and receiving huge cumshots on her incredible melons!
Another slut girlfriend from See my GF is a blonde with perky tits and with a very slim body. That woman is called Joanna and she loves to get nude at the beach. You can see some incredible movies with her and in one of them 2 guys are see her splendid body and they also get naked. Seeing those 2 huge cocks the slut starts sucking them and the guys fuck her for an hour!
All the movies from See my GF are very exciting and they have a great quality. If you want to see some threesomes there are a lot of them on this site. There are also a lot of lesbian clips and you will love those!

In Few Words
The See my GF will prove a very good choice, if you like hot amateurs performing hard sex, and cam-whores showing you every inch of their body. The site has a large compilation for you to browse both in the matter of videos and pictures. The quality may be a bit inconsistent, but everything is quite enjoyable and the quality should improve with the newer cams, tablets and smartphones. There are no bonus sites included, but this site alone has content enough for you to browse for months and you still stay at one place for a reasonable price.
How much costs enter SeeMyGF site?
30 days for $24.96
90 days for $59.87
1 year for $99.95
Check out the other best pay porn sites OR read more on SeeMyGF.com from other famous review sites.