ScandiPorn.com Review
ScandiPorn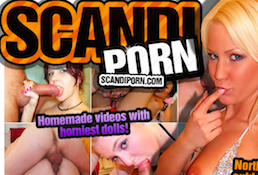 ScandiPorn one the best porn site for European amateur porn.
00000
ScandiPorn Review
Website Intro
Nordic people like the Scandinavians are out in the north, in the cold and want some warmth in their lives. Warmth that comes in many forms may it be from a cup of coffee, snuggling in a big comforting blanket or even a nice, hot fuck. These Scandinavians can get really freaky when it comes to sex. They will do anything and everything possible under the sun when it comes to getting freaky under the sheets so, finding videos about them doing these could be found somewhere. And that somewhere is right here at Scandiporn. This is the website for all your Scandinavian porn needs. There are a lot of blondes, brunettes and sexy minxes all around that should satisfy the horniest people in the planet. So, let's get our kinkiest selves ready for a night filled with sex, booze and the Northern Nordic Scandinavians!
Website Layout
The website greets you with its white and silver theme. The blaring logo that sits on top with the banner and a preview gif of what's to come is situated right at the top. A lovely Scandinavian blonde looks seductively at you right in the center while takes a nice long suck on her fingers. The GIF on the top right is a collection of different highlights of different videos. You can see here how much these girls enjoy a good fuck! The home page is filled with previews of all the different porn videos that Scandiporn has to offer.
This page has all kinds of perks that a successful member will have the honor of seeing. A short description of what is to expect from the website is situated right underneath the topmost banner. It reiterates that all Scandinavian ladies that star in these videos are all freaky and sex craved chicks who want a piece of that meat stick real bad! Of course, these ladies don't just rely on that long shaft to satisfy them as they can get their jig on with another lovely lady, too. All great things come to those who look for them after all!
The All Scenes page will direct you to all the videos on the website. The site updates regularly so the most recent ones are right on the top. Every video on here is unique and of high quality. Members of Scandiporn have the choice to either stream in High Definition or download them to enjoy at a later time. All videos have an appropriate thumbnail which highlights the best part of the video. You will get a glimpse of what these videos have in store for you and hey, maybe you'll end up enjoying them so much that you can go ahead and watch more.
Signing up to Scandiporn will give you access to everything that's in the site while also providing you with right of entry to numerous other exclusive niche sites waiting for you to discover them. Not only do you get access to them but you also have contact with lovely Scandinavian ladies too with Flexigirl. Webcam chat with all these bombshells should give you a boner for days! So what are you waiting for? Join Scandiporn now and you will have the time of your life everday!
Website Content
Scandinavian girls are all hotties who are out for a good fuck like no other. They are into all kinds of kinky stuff whether it be anal, lesbian porn, outdoor orgies or BDSM these girls can bring fun to the table with ease. Sifting through the hundreds of videos that this site has will make it quite clear to you just how sex craved these sex kittens are.
There's one video in here where two lovely women enjoy each other's company a bit too well. One was ginger while the other had blaring hot pink hair on her head. These girls make their way towards each other in a trance, touching each other and feeling each other up while feverishly kissing each other. These girls will occasionally look up at the camera as if enticing you to join them in their endeavor. It's a nice lesbian scene between two gorgeous girls who are up to banging each other's brains out and is a must watch once you set yourself up with the site.
Another must watch video that graced this website is the one where they messed around with chocolate syrup getting their bodies all gooey and sticky with the liquid. It's a whole new bukkake experience for all parties involved and there's a lot of licking each other off and sucking each other to get all of that chocolate syrup off their skins. Beautiful pussies and amazing dick filled assholes will be seen in this video and should not be missed! Scandinavian porn is a whole new experience for porn lovers out there. They have their own flair to them and is quite a scene to see. Sign up now and experience Scandiporn and you won't ever regret it!

In Few Words
Scandiporn is a porn site that's unlike any porn site on the internet. Scandinavian women abound with all their kinkiness, naughtiness and freakiness will shine through in every video that's in this website. Amateurs they may be but they move just like the pros in the movies! It comes as a unique experience for all involved and seeing just how well these videos look, you shouldn't waste your time reading reviews and get straight to where all the fun lies!
Thousands of videos and photos are waiting for every member of this website and Scandiporn makes sure that you're never feeling left out. Exclusive niche sites also become available to you once you decide to sign up and it's like opening a Christmas present and finding even more goodies inside! Anal, face fucking, BDSM – you name it and this website has it all just waiting for you to find them! So what are you waiting for? Sign up now and all these Scandinavian hotties will be yours to indulge with!
How much costs enter ScandiPorn site?
1 month $29.95
3 months $49.95
6 months $89.95
Check out the other best pay porn sites OR read more on ScandiPorn.com from other famous review sites.