PrideStudios.com Review
PrideStudios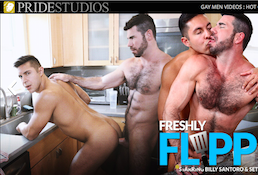 Enjoy amazing gay porn scenes and beautiful guys on PrideStudios.
00000
PrideStudios Review
Website Intro
The lion has always been the dubbed as the king of the jungle. That is because they are creatures which dominate and rule over all of the lesser creatures in the animal kingdom. They have a majestic mane which flows with the wind. Their roar is so terrifying that it leaves fear into the hearts of anyone who hears it. If you are lucky enough, you might just get away with your life after they have released their mighty roar. They are also the protectors of their pride, which they hold so dear. Everything they do is always associated with courage, or strength, or magnificence. And just like the mighty lion, PrideStudios has always been the highest authority on the gay entertainment industry. They are the king of the gay porn jungle if you will. They hold so much dominance that other websites just can't hold a candle to that majestic creature. But PrideStudios is not majestic all by itself. It has an intimidating number of sexy male models behind its back. All of the male models on the website are all so strong and stunningly beautiful that you will offer all you have just to be able to please those ravenous lions. They will eat you up, and you will love it as they eat your dick alive.
Website Layout
On the top of the home page is the eye-catching banner of PrideStudios. There, they feature some of the hottest male-on-male action that the website has to offer. Further down the homepage, you can see all of the latest high definition gay porn videos that have been uploaded to the website. That way, returning users can get right on with the action from the minute they step into the domain of PrideStudios. You will be able to see the title of the videos and for how long the videos run. Even further down the home page are the upcoming gay videos that you will surely look forward to because just looking at their thumbnail will make your dick as hard as a rock. You will be able to see there the title of the videos and the date of when it will be released. Below that are the most popular gay sex videos that are available on the website. And as you scroll even further down, you will be able to see the featured models of PrideStudios. Some of the names displayed there are Alessio Romero, Trenton Ducati, and Johnny Hazzard, to name a few. I am sure that you have heard some of those names before, because those are some of the names that are dominating the world of gay porn, along with PrideStudios. But if you want to see all of the male models that the website has to offer, then just head on over to their menu and click the Guys button. All of the sexy lions that are a part of the pride all in one place. And to top it all off, being a member of the website does not only entitle you to their content. You will also get to access seven whole other websites for just one membership! Some of them are ExtraBigDicks, MenOver30, and CockVirgins, to name a few. You will have so much gay porn to watch that you could spend years inside your room, fapping, and you still wouldn't be done.
Website Content
When we imagine lions, we think of robust and glimmering animals who are strong and dominant in nature. And the male models on PrideStudios are exactly like that. All of the male models on the website have a very sexy body which has been trained for hours on end just to be able to become the perfect sex machine. Their arms are so muscular that they could lift almost anything with ease. Their chests are so well-built that you will want to touch them. They also have washboard abs that you will wish that you could lick them and spread your saliva over them. But the best part is down below. Their asses are so tight and firm that you can immediately tell that it was made for a spanking. And those male models love a good spanking on their behinds. And as you open their butt cheeks wide open, you will be able to see their absolutely luscious assholes that love to be penetrated. And once you begin penetrating them, they will not make you stop until you are dead tired. You will be able to see on the website male models rimming each other's assholes. They really like rimming, and you will want to join in too. And once their assholes are nice and slippery, they will insert their thick cock inside them, jam it in over and over again, and smear their cum all over the walls of their anuses and on top of their butt cheeks. All of the videos on the website look just as good as their male models since all of them are watchable in high definition quality. Apart from quality, they also have quantity as well. There are loads of gay porn videos on the website, so you will always have something to fap to at the end of the day. Their collection just keeps on getting bigger and bigger because they have so many updates over the course of the week. The videos of their partner websites will also surely keep you busy.

In Few Words
The lion has always been a symbol for strength, courage, and dominance. And comparing a lion to PrideStudios is a perfect description of the website because they have been dominating the gay entertainment industry for quite some time now. You will be able to see so many beautiful videos once you enter the cave of PrideStudios. They also have very majestic lion-like gay porn models that are always dominant inside the bedrooms. Those male models know how to fuck an asshole, how to suck a dick, and how to stroke a cock properly and excitingly that you will cum lots and lots.
How much costs enter the PrideStudios site?
3 days $4.35
1 month $26.29
3 months $43.85
1 year $109.70