PovThis.com Review
PovThis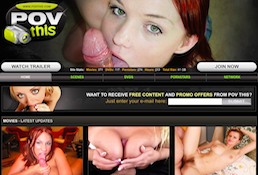 PovThis has some of the most sensational POV videos performed by the hottest pornstars.
00000
PovThis Review
Website Intro
If you want to be the commander of your ship in the lustful waters of porn, POV or point of view slut making is the thing for you. POV is a porn style where the shots are taken from the eye level of the male lead in the video. This first person's perspective is carried all throughout all the scenes making it become so appealing because not only are you taken for a joyride with all the female partners onscreen, you are the one galloping the ride to ultimately end the race in a satisfying orgasmic finish. The view is yours all along and a great proof of that is POVThis.
Website Layout
If there is one experience that is not to be missed especially now that POV style has been getting on as one popular choice of flick in the porn world, that is to sign up for POVThis. Their well-trained use of the on cam male talent's point of view, you get to watch all the ongoing action happening right before your eyes. So if you're in for a quick POV fix then POVThis is there exactly to satisfy that desire. There are more than 300 video scenes to choose from and all of that are taken from full-length features. WMV and MP4 formats are the ones available for downloading while if it's streaming that you prefer given your connection then Flash is handy and is present onsite.
In creating the realism involved in POVs, the producers made it a point to stay close to the standard quality of the films they produce. Most of the standard definition titles run at 3 Mb/s bitrates making it go to full screen without suffering much pixelation in the process. Most of the porn seen in most videos is hardcore stuff done the classic way. The main difference is that the camera work involves you. This involvement makes you a very big part of the program now. You have become part of the film production not just as a viewer but as a participant.
The website is easy to manage and quick to navigate. After all, it is not the website that makes people subscribe but the quality of its content. The site design guides you well in picking your choices be it for a specific genre, a particular porn star or the popularity the videos has been getting from subscribed members. As it does its job in letting you choose your video of choice, the homepage even makes it known to everyone what the most recently released vids are by putting it right up front of the main page. They are not taking it after others where contents are recycled. Updates are done as frequent as they can with some stuff filled in an almost weekly spacing. Areas abound onsite as you get familiar with how POVThis arranges their navigable spaces.
There is the Scene section. Here, it will be easy for you to get accustomed to choice cuts from the entire library and you will be able to view the videos based on the scenes that delight your horny senses. There are also the Profile areas reserved for the porn superstar gracing your films in all colors and flavors to choose from. The network links provided are for the bonus sites which come along your membership. And I humor you not, with these over two dozens site alone, your signup is well worth it. Sites dedicated to Peter North, Tera Patrick, Rocco Siffredi, Silvia Saint, and fetishes pertaining to MILFs, creampies, girl to girl action and more are made accessible to all members.
Website Content
As the scenes are lifted straight from their DVD archives, the video quality is at par and consistent. In a heartbeat, you won't miss seeing some of the materials in HD as the scenes are well made and done in the context of you managing the camera movement so context is fully appreciated. The imagery produced by the ones in HD is so lifelike that they literally take off from your screen. The superb technique involved and the film quality it is made of make for a seamless sexual immersion using your own point of view.
The women are all gorgeous but they possess something more than a pretty face with a fabulous body. They all can flirt with the cameras as needed by POVs to work realistically. They need to be able to fully flesh out the roles and not just lie there naked and humping. These women sure know their stuff as they fully understand what POV work requires. They should be able to make sex with the camera and imagine that there is that other person watching and sizing her up which is you. You are part of the film work after all and should be considered by the girls when they get close-ups with detailed full-color shots and angles.
POVThis has stacked up the profiles with beautiful names, some familiar with mostly unknown ones who are trying to get a crack at the porn sky. POVThis has assembled a range of faces ready for all possible tastes. Women of various colors, pierced and tattooed ones, athletic and lithe bodies to plus size beauties and opposite ends in age and experience are all fully booked and kept busy on site for all POV lovers to get their fill. With variety overflowing to its brim, POVThis can truly satisfy the saying that variety is the spice of life.
In Few Words
POV has recently become so popular as people with many varied personal reasons for wanting to be in the driver's seat have become so numerous in echoing out this style of porn making. The rising clamor for this niche is attributed to those who want to get as close as possible to the erotic scenes happening on screen. By taking the point of view of the camera handler, it makes it easier for anyone to imagine it is they who are in the movie and not some other guy. They can imagine fully well that they are ones doing all the licking, sucking, rimming, and fucking that are gratifying these porn superwomen into high heavens. Porn has now become personal and the man behind the cam is no other than you.
How much costs enter PovThis site?
3 days for $2.95
1 month $29.95
3 months $22.98/month
1 year for $7.95/month
Check out the other best pay porn sites OR read more on PovThis.com from other famous review sites.