PornXn.com Review
PornXn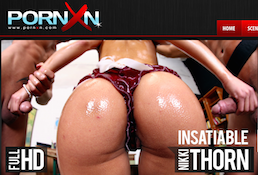 PornXn provides exclusive hard porn videos that will make your days.
00000
PornXn Review
Website Intro
The PornXN is a hub-site, where you can find a bunch exclusive and semi-exclusive porn videos. There are many in-house productions too, so that's a plus, however the videos are not as much as they used to be, and there are other interesting things about this portal. At first glance it looks great – and the content is great, we can't debate on that – but the site has more in store for you. So, let's start with the background. The site launched in 2010, and it was the center of six standalone sites/series. It was updating regularly, but nowadays it's more like of an archive of sexy, kinky porn. This site has whole lot of nasty niches featured, usually coming from the heavy hardcore and fetishes: pissing, fisting, rough sex, squirting and the likes. Don't give up on the site yet though, because you get more.
The company that runs this portal is the ManicaMedia, which is the owner of the Stiffia network. As you may expect, the PornXN is now a part of this network. However this doesn't mean that you get a bunch of porn site when you join. No, you get them one by one. You have to remain a loyal member, because you can add a new site every month, and in a year, you can have the full network – for free, since the new portals don't mean any additional cost. Since one of the most important benefactors of this site – apart from the really kinky content of its own – is the network access. The Stiffia currently offers 20 other porn sites for you to pick from. Some of these are not updating anymore, but they have significant collections with great porn on the videos. Every website has its own focus niche, and several of them feature hot European porn: HerzogVideos with real vintage "Heidi-porn", Leche69 offers hot Spanish porn, but you can enjoy here neat collections of cosplay porn, fisting, deepthroat, interracial sex by the WCPClub and Japanese porn on the JAPANHD. In case you are looking for couple-friendly porn, you should add the LustCinema to your account when you have the chance, because Erika Lust's videos are all erotic, yet truly hardcore. Also for those who like the "other" type of porn, transsexual and gay sites are available to choose from.
Website Layout
The home page of the PornXN looks professional that much is true, and the actual tour features are neat too. Every thumbnail of the home page is a mini-slideshow, so if you move your mouse left or right on them, you can see more sexy moments of the videos. There is also a sample video with hard, and (literally) juicy moments from the actual content. It's convincing enough, especially if you are into this kind of heavy hardcore porn. Once you signup and enter the members' area, you will see that there is a really simple, easy to use layout in use. On the top, they placed the Stiffia logo, which tells you which network you are being a member of. There is also simple-minded search engine to use. Under the logo, in a black line they placed the menu. This can take you to the models, the channels (the sites) and to the news menu.
As extra option, you can discover the site, and check out some promotional deals. It also looks like that you could even upload video to the site. Under this menu, they placed a banner of the browsed site, and then you can start actually accessing the content. There is a site-stats on the left, the videos' list in the middle, and the sites' list on the right. Under the statistics, you can see some categories listed, thus you can reach the niche-sorted list quickly. At the time of our review, the site offered only MP4 file format. This format is in use when you open the scenes in the browser – you get a Full-HD stream at 8000k speed, which is really fine. Naturally, if you have a slower connection or older machine, you can set the quality lower. To enjoy the videos flawlessly in their best quality, you should save them, and play them offline. There are only 6 photo galleries, but they offer 3000×2000 photos, which you can save as a package in zip.
Website Content
The models at the PornXN are not newcomers to porn. Most of them are gorgeous porn stars, and those who are not exactly professionals are on the good track to get there soon. These girls made a choice, and they decided to go for the fetish pornography, which is harder, dirtier, but probably pays better. So, you can find here fresh girls in their twenty, and MILF-looking women in the 35-45 years old range. Naturals and fakers are all featured, so it's a real mix of this and that. When you open the videos, you will see that these models are really doing it. In the sexless scenes, they are pissing in public, or pissing in their clothes, nasty, but there are guys who love this. There are other pissing-porn too: guys pissing on girls' face, girls drinking cum and piss, and so on. You can find here rough BDSM with girls rendered incapable to move, and sometimes they get things on their head so they can barely breathe. Anal penetration, deepthroat sucking and really heavy fisting videos are all available, so if you are into this kind of action, you should check out this site.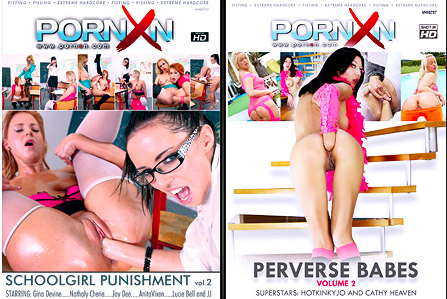 In Few Words
The PornXN is not a nice site, but if you are not looking for boring mainstream hardcore then this porn portal is one you have to see. There are cute girls in here, and they seem to enjoy these hard things they are getting through, and if you are man with a fixation on kinky porn, then it's warmly recommended to take a look on this portal. If you've got enough of it, you can still add bonus sites, and enjoy hard, or a bit softer porn.
How much costs enter the PornXn site?
3 months $19.98/month
1 year $9.86/month