PlumperWorld.com Review
PlumperWorld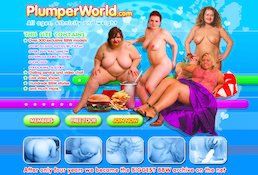 PlumperWorld gives you sensational BBW videos with lot of nasty actions.
00000
PlumperWorld Review
Website Intro
If you have a thing for girls with more than just skin and basic frame, PlumperWorld offers you an exciting option. These sexy hot women have some squishy feel around them. They are the type that gives you something to hold on to while in the heat of action. You are treated to a host of BBW cuties in sex action; spreading their legs for dudes to sample their warm pink holes.
Website Layout
The design is as polished and proactive as it gets. I could sample content by checking out videos by softcore, hardcore and short categories for streaming.  You are treated to a range of browsing options including checking out content by categories.  Your photos are split into chubby cuties with impressive mass on them, and others not so plump. Some of the most attractive features I found on the platform include the feature that allows users to connect with a BBW personally.
You will also love the hardcore fiction archive and the personals section. I love the lure, the catch and the strategy of retaining subscribers. If you stay on for more than three days on Plumper World, you are granted access to fourteen sites as a bonus; including Plump Mature, Cuties in Stocking,  and Video Fatties. These bonuses offer a great option for checking out a wider range and variety of content. Mobile users can also check out content on PlumperWorld with ease. I could view videos from behind my work desk with ease. I only wish that they could avail more download options.
Website Content
If you thought that the party was always meant for the slender girls with slender waists and tall figures, well, think again. Check out cute chubby honeys in action with lean dudes drilling their tools into their pussies. The selection of the plump hotties is impressive. I was impressed with the agility that the girls display. I loved the range of sex positions and the display of sexy lingerie.
There are many scenes that show you dudes eating pussies and the girls heaving in rhythm and pleasure from the encounters. You have over 257 with videos to check out. They give you over 987 scenes. The playback time for each scene varies. The video quality ranges from average to some great quality content. There are many HD videos that have been uploaded lately. There are all indications of a progressive platform that keeps you on the edge of cutting edge technology on the internet.
If you love your porn content in still form, you are treated to a lot of galleries with many cute sexy photos of women in the sack and dudes in action. I did not see any zip files to pile up my photos in one place though there is an option to check out the photos in a slide show. Users can stream and checkout content in Xvid, MPEG, and WMV. There are over 910 galleries with 102 pics in each. This is an impressive amount of content that you will sample for many days on end. The platform has updates lined up but they remain random; even though you get some massive batch updates as well.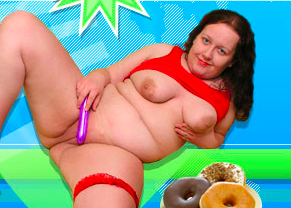 In Few Words
If you have a thing for plump girls, you are in for a treat. Yet, do not be deceived that it's really all plump all the away. You will be impressed by the fact that there are many women with average body mass; there is sufficient content to sample for days on end. I loved the fact that there are some really impressive sparkling crystal clear videos in HD form that have been added in the recent past.
How much costs enter PlumperWorld site?
2 days $2.95
1 month $24.95
3 months $39.95
1 year $59.95