PinupWow.com Review
PinupWow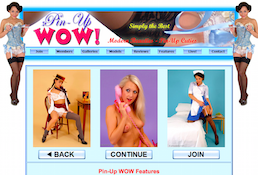 On PinupWow you can enjoy ton of hot girls wearing sexy and vintage lingerie.
00000
PinupWow Review
Website Intro
With so many sites already present in the porn world, people may start to think that they will never see anything new and arousing however, they will end up being wrong, as there are always new and good sites that will bring you the pleasure that you want. One of those sites is called PinupWow, and it's where you can find a ton of good looking girls, girls that have that retro, vintage style of dressing up, with a hint of fantasy and some softcore stuff, and you will definitely be aroused to the point of no return, if that is your cup of tea.
Website Layout
This site has a rather simple design and that, in my eyes, makes it really easy to explore and find all the stuff that you want to find. To start with, the site's home page where you can find all the content is dressed in white, which makes it clear and straightforward. At the top of the page, you can find a banner with two girls at each side and in the middle, a girl's leg is showing, along with a little bit of panties. The site also provides you with the statistics from the first moment, as the banner also holds the information about the site.
Below that one, you can find a playable sample video, in HD, something that can be considered to be a trailer to the site itself. There are some buttons below: the one that takes you to the free tour and the one that takes you to the joining page as well as to the members' area. Below that bar, you can find a picture of a girl in lingerie, teasing you, and a description of the site, which can be considered as an "About Us" section. Further down, you will find more photos of the women, and they do indeed look nice, as they are in really teasing poses.
The site also has quite a fast response time, and I found that I love that, especially since you can find a ton of content that way, as you get to open it all without losing a heartbeat. The site also never fails to load on the mobile devices either, and due to the fact that it is so optimized. Your content becomes portable, and that is another thing that you can enjoy, without a doubt.
Website Content
I love this site, as it shows you a ton of stuff in no time at all, and that really translates into quite an experience, which means that you will enjoy every bit of the content that is there. The videos are not really that long, that is they last for about 8 minutes per piece, but they are full of tantalizing, sweet, seduction from the ladies, as they strip and pose for you in a very tempting way.
But, you should know that there are over 1000 videos and that they do come in HD, which means that the details of that retro lingerie will be great. You can download them in the WMV format. The site also has around one million photos, and that is a huge number, which you can also download, as much as you like, in the ZIP format, too.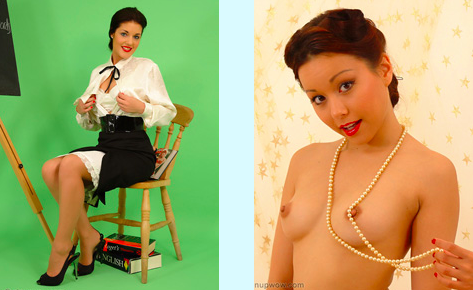 In Few Words
There is rarely a site that has so much content done in such a beautiful and teasing way. You can never go wrong with this site, and its name is, as I mentioned above, PinupWow, where you find a ton of good looking women who love to pose and tease you in such an arousing way that you will be instantly brought to that orgasm that you so long craved for.
How much costs enter PinupWow site?
1 month $24.95
2 months $44.95
3 months $54.95
Check out the other best pay porn sites OR read more on PinupWow.com from other famous review sites.