PimpPassport.com Review
PimpPassport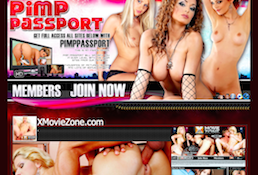 PimpPassport gives you access to eleven different porn sites offering great porn contents.
00000
PimpPassport Review
Website Intro
Are you searching for skinny white girls, busty black chick, or maybe some kinky shemale porn? You will find all that and even more at PimpPassport. This is suited to lovers of porn that like it in many different shapes and sizes. Membership grants access to eleven more niche sites. Eleven for the price of one, how can you not be happy with such an amazing offer?
Website Layout
PimpPassport has a simply and straightforward design. Once you sign up, you can take a tour of the site or preview of all the eleven network sites that features a variety of content. Each site has a screen cap that links to a preview of the action and there are three little screen caps from the scene as well. Also, there are a few other little images from some of the other scenes available in that particular site. The caps and thumbnails are mostly close-ups of action scenes so there is little in the way of background settings.
The females are pretty much naked and they all look to be in great shape. There is only one preview per site that makes eleven previews. If you want to see more you need to sign up and choose any of the offered membership plans. The site supports mobile device viewing and downloading, and it is highly responsive. The website's design is pretty simple and it is very easy to navigate through. Also, there are some advanced filter options to search for what you like the most.
Website Content
With eleven different sites, there will be a huge variation in the models. All those previewed were very attractive and in shape including those featured on Shemale Lollipos. Some of the other sites available are XMovie Zone, Glamour Blowjobs, and Asia Porn Exposed. You can see there is great variation in the style and scope throughout the eleven sites. The Asian ladies look particularly inviting and this is a refreshing change as they are generally not well represented in terms of the numbers of models available in these videos.
There is a huge amount of content available with over 28,000 videos with a wide range of playing times. The number of still images available is bewildering, 2,846,503 in all but don't quote me, as I didn't have the time to count them all. If you only devoted one second to each image and didn't have any breaks it would take over a month to count them. There are daily updates so the number of scenes and images has already increased.
The quality is good also, with Flash (streaming in-browser) at 1000k and WMV up to 4200 kb/s 1280×720. Videos are downloadable without DRM restrictions or other limitations. Generally, the scenes are shot at a level that would be best described as semi-professional. Every attempt is made to get decent lighting and the shots are in focus with plenty of close ups so you don't miss any action. When you stumble upon a website like this that is sticking around for a long time, have an enormous collection of videos and pictures, regular updates and all that variety, you simply have to contribute and join as a member. Show some respect, support, and they will definitely make it worth for you.

In Few Words
Variety is the spice of life and this site is very spicy indeed. If you tire of one of the sites there are still ten others that have the potential to snap your cock to attention. There will be a fair degree of variability but the best quality on display is top shelf and you will not be disappointed.
How much costs enter PimpPassport site?
2 days $1.00
1 month $29.95
3 months $59.95