PeepingSanta.com Review
PeepingSanta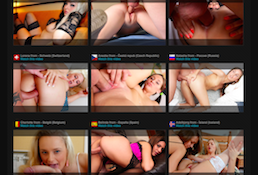 PeepingSanta brings you an impressive collection of great porn videos.
00000
PeepingSanta Review
Website Intro
Peeping Santa is a site that is all about how naughty Old Saint Nick can actually get. The primary niche of the site features Santa although well hidden with all his HO HO Hoes, I hope you saw what I did there. The secondary niche of the site is all about the other porn that is featured on the site from hardcore couples, lesbian sex scenes, solo acts and all manner of sexual scenes that one can think of. The site has tended to divert from the Santa theme to the mainstream porn, mainly because the content is non-exclusive. Even with that, don't feel disappointed as the tempo in the content found on these sites has not gone down.
Website Layout
The site has a modern design and layout. I recommend the webmaster who was involved in the design as well as in the other handy work that was done on the site. The site is really huge and stands out from the other sites with several functions that make it very user-friendly. For instance, the site has a favorite section from where one is able to leave comments and ratings which are pretty awesome.
The site has really tried by putting in a search engine. The search engine is backed up by some top categories that make looking for a particular content pretty easy. However, the site could have included keyword tags that would have done an even better job at that. A really cool thing about the site is that it appears to be updating almost daily. However, this is a bit hard to believe since it is pretty common for sites with huge content to rotate them and as such, the amounts will go up and down but nothing is truly new. I cannot tell for sure whether that is the case here, but it is important to be aware of such facts.
Website Content
It is quite difficult quantifying the number of models that feature in this site as the site is really big and it fails to mention. However, from the content, I believe that the models are in their hundreds if not thousands and that is a huge number of models for a site. The models are from all over the world, although the site's main focus is on the European girls.
One of my main attractions in the site was the more popular Alexis Texas who featured in a particularly sexy scene. She is a slender model who enjoys dressing up in silky lingerie. Her nails are well manicured, her hair is blonde and she dresses beautifully depending on the scenes she is involved. In a particular scene, she fucks her husband's friend who had gone to their home to visit the husband. Apparently, he was not around and Alexis uses the opportunity to seduce the guy who like me, would not pass her off. The scene escalates to some hardcore sex action that was pretty horny.
The site boasts of an unimaginable 4054 videos in different qualities that can either be streamed live or downloaded as per one's desires. There are also a colossal 65535 pictures. These are also downloadable as zipping files or viewed online as thumbnails.

In Few Words
Peeping Santa is really unique in that you will not find another site like this anywhere else. However, the content is non-exclusive and can be found elsewhere. Other than that, it is pretty awesome that, even with the amount of content on offer; there are 10 other bonus sites that will keep you glued to your screen. Although it is important to note that they do not have a Christmas theme. If you are into Christmas themed porn, then this site falls well within your alley.
How much costs enter PeepingSanta site?
3 days $1.00
1 month $29.95
3 months $59.95