PassionePiedi.com Review
PassionePiedi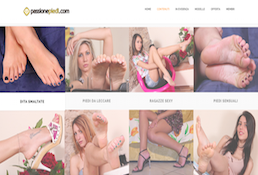 PassionePiedi offers exciting videos featuring sexy feet and legs.
00000
PassionePiedi Review
Website Intro
If you are like me, it is time for a foot and leg fetish party. Yes, PassionePiedi.com is a platform that is dedicated to showing the world what the fresh and beautiful Italian female feet have to show on the foot fetish scene. The menu for soft porn continues to grow. Italian foot fetish online has been on the back banner. The scale is tipping fast though. PassionePiedi is a specialized foot and leg fetish site with promise. I ventured here and encountered a mix of mystery and hot sexy females whose identities remain mysterious. There is a clear attempt to pump up your juices with the leg, foot, toe antics and maneuvers by the sleek and hot models on the site.
Website Layout
PassionePiedi.com is a relatively basic site but it is a notable player nonetheless. The scenes are largely driven by software. Although I found that the site has made some deliberate attempts to present great photos and videos of their models in HD, there are a few aspects that need some tweaking. For instance, the members' area needs to be separated from the visitor tours section. One glitch I encountered was when I tried to navigate back to an earlier page. I was inadvertently logged out! This broke the entertainment momentum. In addition, the site does not feature a search tool. I found it hard to find vids and single out your favorite set of feet from the images' archive.
Website Content
As I mentioned earlier, the treat is centered on a range of fresh female feet. One striking element with the site is that the many sexy feet that are intermittently coupled with some sensual sideshows of smoking women with bear feet are incognito. There is an exciting allure of mystery that comes with the faceless feet. The toe and feet movements did me in. There is a visual connection in the leg and toe moments. I must confess that my loins began to churn a little. Yet, I hadn't seen it all. I saw a striking charm of the feet display that is intermittently interrupted with some striking lingerie, draped around equally scintillating bums and curvy waists; but not for long though. I could only savor occasional moments of peek views beyond the legs. Although PassionePiedi lacked in some aspects, I think the models made up for this with their amateurish and innocent displays. I could bet that these were pretty nice and fresh legs that have hardly experienced physical sexual contact. I know my claims come without proof but I certainly got the feeling. The scenes are varied enough to capture anyone with high resistance to arousal. I got to watch the girls paint their nails and savored some simmering images of feet in sexy sharp heels. Well, if you thought you would pitch camp, too bad. The video scenes appear to be specially designed to give you just enough doses to make you want more, and then they are gone. They are, typically, short 10 minute scenes. Videos are in HD at 1080p. I was able to download video files in WMV and h264 formats. Apparently the h264 ones are a little blurred compared to the WMV. Apart from downloading videos, I was able to stream the videos directly and get some awesome pics in zip.

In Few Words
PassionePiedi is the ideal foot fetish adult soft-core entertainment site. It is particularly appealing to those with mild foot fetish and sexual attraction to amateurish display. The fresh armature Italian beauties also have a platform that recognizes their sexual endowment and offers them an avenue to display to the world; after all, who said experience is a universal sensual trigger! The site needs some help in splitting the various categories though.
How much costs enter the PassionePiedi site?
1 month at $19.99
2 months at $34.99
3 months at $44.99