MySexLife.com Review
MySexLife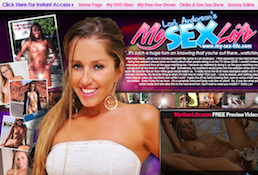 MySexLife provides the diary of a naughty blonde chick that will drive you insane.
00000
MySexLife Review
Website Intro
Reading a girl's naughty diary is pretty much exciting isn't it? I mean, come on, you will discover a lot of things about her including her favorite positions, her preferences, and her sex life. This is what the MySexLife porn site brings to the world. You'll step into the mind of hot fresh chicks with overwhelming bundles of joy and delightfulness. Not to mention that the site features a hot blonde chick together with her sexy smile, charming looks, and really awesome body. Dudes will raise hell seeing her charm. It's the chick's sex life as she travels the world looking for some horndogs and has some fun.
Website Layout
I usually mention the design first before the feature of the site. But today, it's a different case. Lori Anderson is a true life amateur exhibitionist and just like Dora the Explorer, she likes to travel to the world and look for good sex. Regardless of who you are, whatever you do, your race, or your beliefs, as long as you have dick and balls, she is going to make sure that all the time you spend with her is all worth it. You can do the hell you want with her pussy, insert that huge cock in her butt hole (She don't care) and make the most out of her soft midsized boobs. The site explains how she began her sex life. The site mentioned a bit of her which including her career in the porn films industry back in the year 99. Those days, she was doing live cam actions on TV. The respond of the horndogs community began to rise and made her popular. Today, she's looking for studs and guys who can fuck like rabbits for hear pleasure.
Now for the design, I'm looking probably at the best online sex diary on earth as she elaborates her experiences from different places. I like how the content was presented. There are descriptions which are maybe enough to get a boner. With over than 400 videos that took place elsewhere from Europe, The State, Asia, Russia, and other several places. The duration of videos will vary depending on the dude's dick. After the semen ejecting moment, see Lori as she enjoys those sticky, warm and healthy jizz from the dudes she barely knows. The films can be watched both download and streaming. Of course, you need to be an official member in order for you to watch the full episodes of each scene. You can use windows media, MP4 and Flash when watching these films.
The action which you are about to see can leave you in awe as Lori the exhibitionist bitch will try a bit of experiment with her pussy and ass. There are some scenes where the dude literally uses different pieces of stuff for Lori's fuck pleasures sake. Images also included on the site with over than 700 galleries that has 45 pictures each. Both films and pictures are in good shape giving you the best porn pleasure and adventure. The photos can be your ultimate Lori Anderson's collection. You will envy lots of dudes when you show your collection. Trust me I'm sure. But anyways you have to keep in mind that you can only transfer these files when you zip them. The site indeed gives you your ultimate pleasure or blonde chick desires. But, that's only the beginning. As a member, you can access the My DVD Store, free live shows by Lori, live sexy shows, extras, and updates. Not to mention that there is a certain teaser movie if it seems that this review does not sound convincing.
Website Content
Lori started her career in the porn industry in the 90's as the queen of quivering thighs. She's so damn hot. She even looked like Piper Perabo which made me crazy. There are numbers of things about this chick and you'll really find them stimulating indeed. Moreover, most of her films seemed she almost forget that the camera is rolling. Somehow she lost herself and freak out as she moans, screams and goes crazy. There are times that she really wanna go as she jerks off herself while milking the dude's meat. Well, what can you except she's an exhibitionist. There are hardcore actions which are sophisticated enough as you crave more for pleasure. As an exhibitionist, she prefers to jerk a lot and film them.
There's a certain scene where her body gets hot and she feels being naughty so she uses a hard metal tool and inserts it into her vulva. The films available are extraordinary and you will never see such puny jerking off again. It's actually addictive and exciting guessing what kind of tool she is going to use next as her improvised dildo whenever dick is not around. There will be blowjobs, well lots of it and humping and jumping. There will be the doggy, the cowgirl, the cartwheel and everything under the sun. In case, no dude wants to fuck her around, thank God she's a bi-sexual. One film, she lay back and spread her legs for the feel of another female. It's a skin to skin action that truly made my dick angry. She sucks the pussy and she eats the clits while fingering herself off. There is also another scene where she really seizes the moment when a dude spews the jizz to her shapely ass. That's a lot of sperm if you ask me.

In Few Words
Touring the site is like having a closer look at the sex life of such bitch. It is exciting, stimulating and the best of all, it includes live cam action with I look forward to see her butt naked and insert something nice to her puss. It seems like a documentary about the life of a blonde slut who prefers to be fucked as always by dudes and lesbos. The films are in the form of softcore, hardcore to out of this world actions.
How much costs enter the MySexLife site?
2 days $1.98
1 month $29.95
3 months $59.95