MyGirlBoobs.com Review
MyGirlBoobs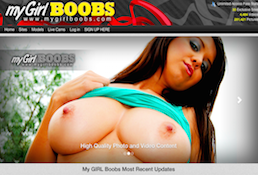 Big natural boobs, sexy girls and lot of nasty things are at your disposal on MyGirlBoobs.
00000
MyGirlBoobs Review
Website Intro
The MyGirlBoobs is a neat porn site, where you can enjoy hot girls from that cute girl-next-door type. These chicks however are not just any fresh hotties, they have some really prime boobs too, and that's just a pair from the many other hot, tempting things about these girls. The site promises high quality videos and photos, enticing hotties and some more, so there are many things we have to check. We usually dig up background info on the site, and the most important information you should know about the site is that it's only three years old, and it is a site of the UnlimitedAccessPass network. In case you like the videos of this portal, you should check out the other sites, but we will get back to this soon. So, it looks like that there are only exclusive porn videos on the MyGirlBoobs, and though the flicks are listed on other sites of the network, you can't possibly find them outside this series of porn portals. As with some other UnlimitedAccessPass website, we are not really sure about the actual update schedule. In the members' zone, the content doesn't have dates, but on the tour page, they are dated – and these dates show a weekly update schedule in order. So, we say that the site updates weekly, because the content counts grow.
The quality is something we should also inspect – and we are quite happy about it. The pictures are actual photos that were taken during the shooting, so they are real HQ shots. The videos come in mostly HD, so that's another good aspect. To keep our promise, we would like to share some information about the UnlimitedAccessPass. This network has been online for ten years now. It features over 30 sites, and you get access to all of them. The content provided by this network is exclusive, and it's a kind of semi-professional footage collection, accompanied by real professional photos. There is sharing between the sites, but the overall amount of porn you can get is really good: over 4,000 scenes become available to view or save if you join the MyGirlBoobs, or any other UnlimitedAccessPass sites. So, to cut it short: the site is great, and the network access makes it even better.
Website Layout
We have seen UnlimitedAccessPass websites in the past, and we were glad to see that they have changed the layout and the design, and so it looks better and loads like lightning. There are hot photos listed through the page, and they show you what kind of girls and boobs are waiting for you inside. A free preview video features a great girl masturbating in the bath, and that's way too hot for us to resist, so we headed straight for the members area. We are quite happy to see that the inner section became has more options than before, but it's still simple and easy to navigate, without getting lost or feel overwhelmed. You can find a separate menu area for the network and the extras, along with the search and the account-related options.
The site has its own menu under the banner – from that you can go the important areas of the MyGirlBoobs: photos, video and chicks, and there is an option with the tags you may choose from. When you list the content, you may sort it with some filters you can find above the actual listing. As far as bonuses are concerned, you can enjoy some sweet live cam shows, however apart from the free chat rooms, you have to buy credits for private action. So, there are photos and videos on the site, and to be honest, we are quite satisfied with them. When you open a video's site, you will see that you can play it in an embedded player. Though it offers only SD resolution, due to the good resource, it's a fine option. In case you don't like to compromise, you should go for the download section: there you can save WMV or MP4 files, and they are usually coming in HD at a 720p resolution. You will love the photos too, because they are real, not vidcaps. The HQ photo sets are all available for download packed into one zip file.
Website Content
When you are looking for hot new girls, you shouldn't settle at the first site, because you may miss out on the cuties of this one. These chicks are not the cold hard professionals of the big reality-porn studios, and they are not the type you could just fuck and forget. The models of the site are cute, pretty fresh pieces, with natural breasts, and they have that real girlfriend-feeling about them. We love that they look cute, they have medium to large breasts, and they are not good girls. For example, some of them are not just smoking hot, but they are actually smoking (fetish alert!) so they are bad girls.
The videos of the MyGirlBoobs are focusing on the breasts of these sweethearts, but they aren't just standing there: they show their body, masturbate, and in some cases they make a man happy with their hands and mouth. You will probably notice that the videos are not the high-budget super-productions, they are rather humble footages. The guy with the camera is probably the director, and the girls are just doing what they feel right. There isn't much talking in these flicks, and you usually hear only sights and moans – this is not overplayed or theatrical like the mainstream stuff.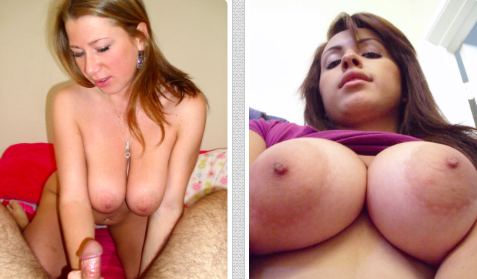 In Few Words
The MyGirlBoobs has a hot pile of videos and photos for you. In case you enjoy watching sexy girls showing their body, and playing with themselves or with a cock, you will certainly love this collection. In case you are looking for something different, the network sites have a lot to offer you, and the tags of the content will prove to be useful. We liked this website for what it is, because this softcore, yet fetishist porn is really exciting, and we love to turn off our mind and forget the hardcore mainstream for a time. And this site is perfect for that.
How much costs enter MyGirlBoobs site?
1 month $29.73
3 months $19.98/month