MyFirstPublic.com Review
MyFirstPublic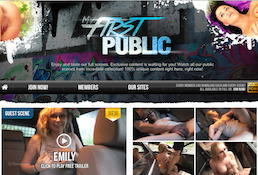 MyFirstPublic is where you will get to see great outdoor European scenes and dirty sex.
00000
MyFirstPublic Review
Website Overview
There is a certain level of adrenaline rush and thrill that is gotten from doing things that may seem insane or dangerous. When I first visited this site, I did not know what to expect. But sure enough, my heart was racing hard from the adrenaline in the sex plus the nature of the surrounding. It is pretty uncanny for one to experience or see sex performed in public. However, that is all MyFirstPublic stands for. Better yet, sex is not done by professionals, rather, it focuses on the first time performers of public sex. Talk about another level of sex craziness right there.
Website Layout
When I clicked enter after typing in MyFirstPublic, I was mesmerized by everything that was at hand for me. One can easily tell that this is one nicely assembled website. From the top, the writings are done in a nice graffiti-inspired wall. Covering that, if I am not wrong depicting a snow covered park or something. All in all, the site looked pretty fun to me. Easy to see and read icons invite the members of the site to what is on offer all over the site.
Basically, MyFirstPublic is a simple site in that what you view on the tour is basically what is found inside. However, only through membership is one able to stream or download the videos. Another plus for the site is the flexible membership that grants you unlimited access to other sites that are found in the network. I wish there was an option to rate; add to favorites, comment, and a bit of descriptions to embellish the content.
Website Content
MyFirstPublic has an impressive collection of over 78 movies, all shot and taking place in public places and all are with full HD viewing, streams, and downloads in MP4 format 8—Kbps (1920×1080) or 1800Kbps (854×480). One can as stated earlier, stream them in a browser and watch online. All these are dependent on the members' desires. The site has either HD versions of each video that are taken up in MP4 files at 1080p or the more basic standard definition that stand at 480p. Even when one is on a small connection, the full screen still looks good meaning that one does not miss out on the fun. Apart from downloading, streaming is also available up to 1080p in certain cases or the basic 480p in most.
Movies are accompanied by a limited number of images in the site, approximately 50 as the site focuses more on the video and movie aspect. Anyway, you can check out the trailers to know what to expect in every scene. A particular movie that involved a hot European probably Russian model who drive out in the country and stopped by the road for her to experience if I presume her first public sex. The movie is cast in POV and the gorgeous girl takes on that huge hairy guy's dick in her mouth and sucks it beautifully. She then takes it in her twat and well, if I don't touch myself from all these sexy scenes then I'd be insane.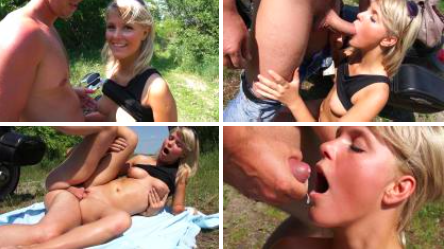 In Few Words
MyFirstPublic is a pretty simple site that sells what it offers and more. I like how the site has all its videos in HD plus the rough background was a nice touch. The sexy scenes are pretty hot and although it features a near complete European cast, the sex is pretty hot and insane. I think more can be done on the site to include galleries as well as an interactive page. All in all a pretty nice site and as such, I do recommend it.
How much costs enter MyFirstPublic site?
1 month $29.95
6 months $69.95
1 year $99.95