LatinaSexTapes.com Review
LatinaSexTapes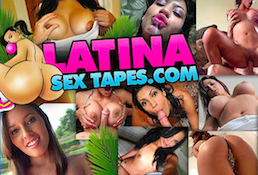 Hardcore sex, juicy butts, fresh chicks and exciting porn scenes are all on LatinaSexTapes.
00000
LatinaSexTapes Review
Website Intro
The LatinaSexTapes is a really hot hardcore porn site, which offers a collection of nasty porn scenes, with gorgeous Latina chicks. When you open the tour page, you will find some really hot girls, who seem to enjoy their mischievous behavior and who seem to like it when a men has a large cock. All movies here come from the workshop of the guys at the MOFOS network, so you should get ready for some sexy reality-porn. If you are not an experienced porn fan, or you weren't too interested in reality porn before, you probably won't get too excited by the fact that the LatinaSexTapes is a MOFOS site. However, it's a big thing, since the girls here all semi-professionals, and they get a really hard fuck from the guys… and it's all captured in high quality. Also, the videos of the LatinaSexTapes are all exclusive, and though the site claims that the girls are amateurs, the videos are professionally made. This series of the MOFOS network launched back in 2011, and from that time, they added one video and a photo set every week. It's a steady and easily kept schedule, and this makes the site really stable. The collection's size supports this schedule, because there are more than 210 flicks there, and the number continues to grow. As a member on the LatinaSexTapes, you gain access to the videos of this site, and also a full network access is granted. This way, you will be able to enjoy all videos ever produced by this studio. This is the main bonus you get, so use it well. In case you enjoy like hardcore sex, and you are not worried if it looks a bit rough, the videos of the network will satisfy you.
Website Layout
Open the home page of the LatinaSexTapes, and you can see that these girls are really hot. The site's layout isn't too heavy and on its own account it's very simple to use. In tour mode, you can only view the pictures on the main page, no other type of insight is provided, but we find these pics quite hot enough to make us curious. Heading into the members' zone brought a fine change. A much more complex, easily usable page welcomes you, which offers several options for the eager viewers. At the top, you can find the main menu. This features not just the links to the different areas of the LatinaSexTapes, but it also offers a search field, where you can type your criteria. It recognizes mostly niche-related keywords. You also have the option to reach the bonuses from here, so if you are finished with the 210+ videos of the site, you can start exploring the network. The site offers its videos to you in the form of an online stream, which you can play from your browser. It's a Flash-video stream, and you can set the quality accordingly to your computer's capabilities. Downloading is also possible: you can save the videos in MP4 and WMV format, and a mobile-friendly file can be obtained too. You can choose from different resolutions.
Website Content
The Latinas are one of the hot ethnicities that make men turn out of their religion and start believing in the wonder of booty. That's because the Latinas (along with the Black girls) have naturally big, juicy buttocks which are just making men crazy as soon as they start shaking it. On the LatinaSexTapes, you can enjoy a large collection of videos, with nothing else but Latinas in them. The girls are mostly semi-professionals and reality-porn models, who are just doing their business and making men cum for a living. In case you enjoy hardcore sex, and you also like cute girls and their mischievous behavior, you will soon find that the girls here are really cute, and they know how to do porn. Cute isn't a good word though, since these models are amazing and very hot. Though they are not the cold hard professionals, they are still really busty, and the best thing about it is that they are mostly naturals. You can forget the faker Caucasian pornstars of the mainstream sites, these girls are doing a great show for you, and it's quite certain that you will enjoy watching them shake their breasts and their booty. Natural appearance is one thing. However, age is another important factor when it comes to porn, and you can rest assured, these Latinas are fresh, and they have their temper, so you can expect here only high performance, exhausting sex and amazingly hot girls, who can take anything. What happens in the videos of the LatinaSexTapes is really exciting, and it's quite heavy. One would think that the videos are plain hardcore, but you will see as they get deeper into the action: the sex is also quite heavy. For hardcore and exciting sex, you don't have to go anywhere else. The girls are getting on with the action really soon, and since the guys are really well-endowed, there are some moments when you might think that the girl can't take it anymore… but in these moments, they just stuff it deeper and pass the point of no return. The heavy sex in these videos is exciting, and apart from being a bit rougher than you would expect at first, they are all mainstream videos. It seems that sunlit places have more Latinas than stinking big cities, and if you take a look at the thumbnails, you can see that the videos are shot in bright environment, and they often feature outdoors sex.

In Few Words
As the site grants a full network access, the membership is recommended for everyone who loves hardcore porn with reality elements. The updates are increasing in quality, and the MOFOS start a new series now and then, so you won't run out of hot content ever.
How much costs enter the LatinaSexTapes site?
2 days $1.00
1 month $17.99
3 months $19.99/month
1 year $7.49/month
Check out the best porn paysites OR read more on LatinaSexTapes.com from other famous review sites.