KarupsHA.com Review
KarupsHA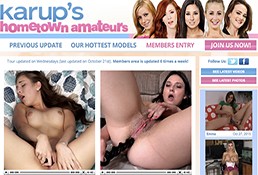 KarupsHA is a good choice for amateur lovers, it provides a fantastic porn collection.
00000
KarupsHA Review
Website Intro
Becoming a member of a porno site is a decision that has to be made with proper thinking and planning. You need to choose a reliable place who offers the content you like, and even more, guarantee constant updates and increasing material to justify the asked price. The amateur genre is nicely explored by companies, but they often will put the models in more hardcore oriented action that kind of spoils the amateur aspect wanted from this category. If you are searching for a trustworthy place to find beautiful fresh girls in softcore action, with just the precise amount of hardcore sex to spicy the scenes and pictures, Karup's Hometown Amateurs can offer you all of that and more. Launched in 2001, Karup's Hometown Amateurs has more than 14 years of experience in the business, and with time comes an immense library of consolidated material ready to be downloaded. The exclusive material provided by Karup's Hometown Amateurs will impress amateur lovers, so take a look in their features.
Website Layout
There is not a great amount of features in Karup's Hometown Amateurs' site, but all the offered features provide the essential information and access and even some in-depth extra infos that are welcome. The best example of this extensive development of the site's features is present in the models' profile. Each one of the models has an individual page that provides the basic information such as measurement and place of birth, but goes even further into personal sex life question like sexual fantasies and how they lost their virginity. This is an interesting approach into the amateur business, since the audience is into innocent girls who have a normal life and dream, instead of professional pornstars that are too professional to being believed to have an amateur personality. Curious visitors without membership can see some of the model's profile to understand what we are talking about. There is even a nice preview trailer of the girls, that shows some solo action and, if present in their scenes, hardcore sex segments. Most sites won't give you the proper preview, so this is a commendable feature that helps new members understand the material quality and focus. Visitors can also see some of the pictures previews, but unfortunately won't have access to the full resolution, exclusive to member. The scenes are divided into softcore and hardcore scenes. So you can easily access solo and striptease pictures and videos, or hardcore sex with a male partner. You can either download or stream each individual video, choosing a .wmv or a .mp4 high quality videos or mobile quality videos. There are different resolutions, from HD to SD, with the exception of the scenes produced a long time ago, which only has a SD quality offered. That's understandable, since the site is really old, from a time that HD quality was not consolidated or even at disposal of companies. A nice strong point in Karup's Hometown Amateurs is their extensive image gallery library that since 2001 keeps growing. With an astonishing number, over seven thousand individual galleries, members can expect even more content, as new galleries are added almost daily.
Website Content
The girls are natural in all aspects. You won't see strange faces spoiled by aesthetic surgery or fake tits. Only the fresher and most innocent looking girls are chosen to star in Karup's Hometown Amateurs' productions. The solo scenes are nicely illustrated in a voyeuristic point of view, with the camera trying it best to capture the models faces and body twitches. There is neat use of the dildos, as the girls use then to please themselves, making sure to perform sensually, just like a first time discovery of masturbation or as an innocent act performed in secrecy. As for the hardcore scenes, there is nothing really rough, instead there is an interesting exploration of a more tender and progressively evolved sex, maintaining the amateur aspect that members really want. This working style, without rush in the sex pace, is a brand really respected in the productions, making the material exclusive not only in access, but in the overall uniqueness of the scenes and atmosphere. The same professionalism is present in the camera work and production as a whole. Every scene is delicately shoot, with smooth camera movement and a nice filter the preserve a soft and pleasing illumination. Producers rented nice sets to shoot the scenes and pictures, with diverse places such as nice bedrooms, kitchens and other house locations. The general feeling is of a next-door amateur experiment, turning the scenes more voyeuristic to increase the fantasy factor.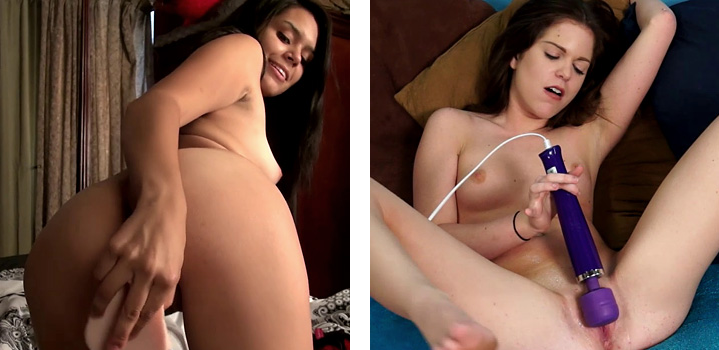 In Few Words
Karup's Hometown Amateurs is a site that not only have a big and consolidated library of amateur pictures and videos, but also give you the safety of being online for a long time. It is one of the pioneers of the internet adult business, being launched in the distant year of 2001, and have ever since produced an incredible batch of new material that only grows with constant updates, with almost daily photo galleries updates and six videos each week. With beautiful models that transpires innocence in their looks and smiles, Karup's Hometown Amateurs has already worked with more than a thousand different girls, so there is an immense batch of distinct scenes exploring the most various kind of beauty. It needs to be pointed the honesty of the site, noted by some possible preview for new visitors. From specific portraits and information of the models to an exclusive preview trailer of their solo and hardcore scenes, potential members can see some of the material to decide to take a membership. It doesn't seem like a big deal, but nowadays there are few sites that provides this kind of free content to non-members. Karup's Hometown Amateurs can make even the more indecisive of people assured of the quality of materials, as well as the worthy of its exclusive productions. Becoming a member will unleash almost 15 years of amateur material, so be careful in not overloading yourself!
How much costs enter the KarupsHA site?
1 month at $29.90
3 months at $69.90