JoyBear.com Review
JoyBear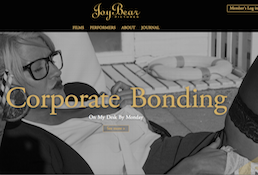 JoyBear is one of the greatest sites for quality of movies.
00000
JoyBear Review
Website Intro
Joy Bear is a British owned and operated high quality, fantasy and story-driven porn website that caters to women just as much as it caters to men. The site is the direct product of JoyBear Pictures, a British film production company that has been making erotic, "sex-positive" films since 2003. They have a very ambitious goal which is to change the perception the general public has of the adult entertainment industry. Its founder, Julian Santos, is a film graduate who won the prestigious Playboy rivalry "Head to Head", a reality-TV competition to become the next great erotic cinema director. JoyBear is clearly raising the bar with its premium, sex-positive movies, its high production values and unprecedented ethics in the business. They are raising the standard in adult film entertainment by higher great performers, scouting terrific locations and hiriing top-notch film makers who really know about movies. Although its films are beautifully shot and filled with wonderful fantasize-worthy material and images, JoyBear is not afraid to show the funny and not-so-perfect side of sex. Which is really refreshing and cool. In 2013, JoyBear won the Good For Her Award at the Feminist Porn Awards. Its slogan is "Very British. Very Naughty." and it certainly lives up to that, but it is also character-driven porn which means the characters the performers play will actually be people you would be interested in knowing in real life… not only because they have beautiful hair, gorgeous tits, nice round asses and scrumptious hot cocks that can fill those delectable female holes.
Website Layout
The Joy Bear site is one of the sleekest, most elegant, most tasteful porn websites I have ever seen. With its classic gold and black design, its just oozes class and luxury. The site is super easy to browse because you can quickly access the movies through there title images or through the Performers section which offers beautiful, artistic black and white photos of all the more than 100 JoyBear Pictures actresses and actors, because yes, these girls and guys can actually be called actors and actresses. Further down, the Journal is a super cool feature that is sort of a hybrid between a FAQ section and a blog. You'll find interesting points of vue on different subjects and learn stuff about the "Making of" of JoyBear's feature films. Since JoyBear Pictures movies are very character-driven and really have storylines to them, it is really great to know that you can actually read outlines of the movies and watch trailers that tell you a little bit what the story is about, and who the gorgeous people in the movie actually are. If you don't care and you just want to see some nice, hot, juicy sex presented in a sexy, erotic way that will please women just as much as men, well, you can get that too, don't you worry about I thing!
Website Content
The videos on this site should not be insulted by being called videos. These are top quality feature films with lavish settings, great attention to set design, photography and yes, even story. Although, from what I understand, the scripts are not written per se, they are clearly canvassed and the performers are asked to improvise the dialogue that leads to the amazing sex scenes that you will never get tired of. The movies are available in their entirety or you can also access them by scene, which is really cool, too. With great titles like "Corporate Bonding" (about a bunch of lawyers in a firm who go away for a team-building weekend), "The Matchmaker" (about – you guessed it – a hot lady who can find the perfect partner for anyone), "Fit" (about getting into the gym for a workout like no other) or "Street Heat" (in which Steve Hooper and his gang go out in the streets of London to find out what Londoners like and loathe about porn… and find some people who wouldn't mind being a movie of their own!), just to name of few, you will never get boring and neither will your cock… or pussy! You will want to check out gorgeous blondes like Ashleigh Doll, Victoria Summers and Satine Sparks. You'll be gaga for exotic ladies like Honey Demon and Mira. You will want to spend some time with mature, big breasted godesses like Cathy Heaven, Aruba Jasmine and Ashley Downs. You will be blown away by Ava Dalush's tush, Amarna Miller's beautiful butt and Stella Cox's sweet pussy. But that is just the beginning. May you be a bi guy or a straight woman watching porn alone or with your guy, you will be happy to discover gorgeous scruffy guys like Max Deeds getting it on with Sienna Day, or Bererdou, Alexei Jackson and Marc Rose having a great time with beautiful chicks. You'll get hot under the collar checking out tattooed hotties like Jamie Rocket, Dean Van Damme, and Peter Oh Tool, or breathtaking black hunks like Antonio Black, Sensi and Marcel Roberts.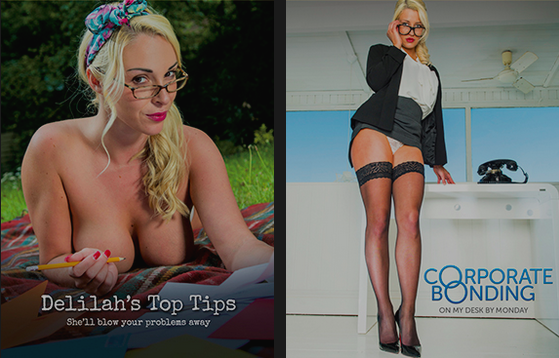 In Few Words
There is no doubt in my mind that the Joy Bear site and all its content, produced by award-winning film making company Joy Bear Pictures is a five-star, top quality site that deserves all the great attention it has been getting in the porn industry as well as in the main stream of society. Julian Santos and his amazing team of filmmakers are in a league of their own. When you check into Joy Bear Pictures, you will be spoiled for all the others and you will never want to check out of this five-star hotel. So go over to JoyBear and see for yourself. I dare you to not become a member once you will have browsed for a while and taken in a few of the high quality trailers that are offered for each and everyone of the high-quality movies available on the site. Once you cum in, you won't want to leave, that is for sure.
How much costs enter the JoyBear site?
1 month $25.00
3 months $50.00
1 year $100.00