JohnnyCastleUnleashed.com Review
JohnnyCastleUnleashed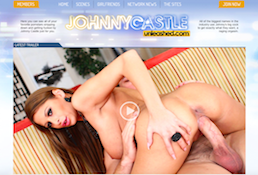 JohnnyCastleUnleashed features the hottest girls in porn and the most exciting videos.
00000
JohnnyCastleUnleashed Review
Website Intro
JohnnyCastleUnleashed is a porn platform that features the hot hunk Johnny Castle in exclusive sex scenes as he screws with attractive female pornstars in various locations. The dude is prized with the likes of Alison Star and Luscious Lopez among other hot girls you want to get down with; anytime. JohnnyCastleUnleashed presents you with crisp clear images of the girls being drilled deep and hard in hardcore sessions that will leave you horny like a goat.
Website Layout
JohnnyCastleUnleashed is filled with many clever tweaks that any experienced porn lover will appreciate soon after arrival on the platform. I was impressed with the clever mix of background colors. The home page invited me to a sparkly glossy black banner with gray on the pane that casts forth the menu. You are treated to a host of user tools that will impress you. I could begin my porn-viewing session immediately I landed by clicking on any of the tagged images. I first flipped the pages to catch a quick glimpse of the images that point to the action that ensues below the surface.
It is hard to navigate away from JohnnyCastleUnleashed if you check out these crisp clear images that give you smoking-hot samples of Johnny Castle as he pounds the stunningly hot female pornstars. I'm tempted to mention my sessions where Anna Foxx stirred my hormones and made me splash my seeds in my pants while I was still at the office, but let's talk about that later. Mobile phone users have easy access to the content on JohnnyCastleUnleashed. There are up to five settings for viewing in MP4 format.
Users can sample their choice model on the model index and follow the girls in scenes across the videos segment. I could also check out the content on the basis of when they were updated. There is a page navigation feature that allows you to sample flicks page by page or skip to specific points. Streaming is fast, smooth and seamless on the platform. All the videos are exclusive and come in full HD specs including over 8000K and breathtaking sizes of 1920x1080p.
If you like to have bonuses on your primary subscription, I guess you are twice lucky with a subscription to the platform. I could check out all the sites under the Spizoo Network at no extra charge. Check out stimulating videos and hot pics on such platforms as First Class POV, Porn Goes Pro, Glamor Pornstar, Intimate Lesbians, Pornstar Tease, XXX Tanya James, Drain My Balls, The Stripper Experience and more.
Website Content
Girls such as Anna Foxx are models you want anytime. Their stunning beauty, style, and demeanor are enough to make anyone go down with sex attraction. Yet, if you are thinking any dude having a fling or even just a quick stint with Anna Foxx is the luckiest of them all, you might want to hold your horses before you draw any conclusions. Apart from screwing with Anna Fox close to the camera, Johnny Castle is a real lucky dude.
Trust me the stud muffin frequently fucks with the likes of the gorgeous Anna Foxx, Sadie Swede, Shay Foxx, Eva Karera, Jennifer Dark, Taylor Wayne, Vicki Chase, Liza Del Sierra and a host of others. You are treated to hardcore sessions with Johnny pounding hot girls with his large cock, but you also have twosome, and group sex orgies that show Johnny sucking female pornstars while he drills another from the other end. The scenes are hot and irresistible. You have over 41 videos that come with a 20-minute playback. If you like still photos, there is a similar number of galleries with over 180 pics each. There is even a zip file to assist with downloads.

In Few Words
JohnnyCastleUnleashed features a variety of sex action with a focus on the hottest girls spreading their legs, bums, and pussies for the hot and impressive stud muffin whose name gives the site part of its title. There are many user tools to make your visit an exciting experience.
How much costs enter JohnnyCastleUnleashed site?
3 days $2.95
1 month $29.95
3 months $23.21/month
1 year $9.99/month
Warning: the website is closed, but you can find a very close one here