ILoveBitties.com Review
ILoveBitties
If you want to enjoy fantastic, big, natural boobs try ILoveBitties.
00000
ILoveBitties Review
Website Intro
Boobs are awesome. But do you know what is more awesome than boobs? Really big natural ones that grow up to the size, JJ. Yes, you have read it right. Why would you settle for artificial double-Ds, when you can actually get natural ones at a whopping double Js! Is it really hard to believe that such boobs exist? Well, we have found the paradise where you will be able to find them. This porn site is called I Love Bitties. Bitties is what they call the gigantic yet hundred percent natural boobs that their porn stars have. I Love Bitties is part of the boob-dedicated network Bittie Bucks. I Love Bitties is actually the main porn site that they offer, along with six other porn sites. It is important to note though that these six other porn sites are ones that feature their most famous porn stars in the network. For instance, Princess Rio is getting pretty big and in demand in the porn scene, so they have decided to dedicate an entire site just to her. And the same goes for the porn sites which feature Louise May, Brook Little, and Victoria Summers just to name a few. We really appreciate how they handle their porn stars because the Bittie Bucks porn network really gives them a chance to grow their career. They are not just going to be another porn star inside a website that features hundreds of other porn stars. No, if they see that a porn star is really worth it, they will go ahead and expand, providing that star a chance to shine even brighter in her very own porn site. With that being said, it is not very surprising that there are actually a lot of girls who dream of being a part of I Love Bitties. This is the reason why they actually have a new girl each month. Unlike the other networks where you can only look forward to new videos, this porn site gives you a new hottie to get excited about. Hence, if you are already planning to sign up with the I Love Bitties site, in order to get access to their exclusive bitties videos, then allow us to share with you some information about their different membership plans. There are three main options: a one-month, a three-month, and a six-month option, and that's not all. If you decide to sign up for the three months option you will get one more month of full access for free. And if you ever decide to sign up for the six months option, you will then get three months of full access for free as well. Their options are pretty great, right? And we would definitely understand if you are going to have difficulties in selecting the membership option for you. Then maybe their three-day trial will finally get you to decide? Yes, they offer that as well at a minimal price. Also, take note that upon signing up for membership, you will not only get access to the exclusive and high definition videos of I Love Bitties, you will gain access to the entire Bittie Bucks porn network as well which in total gives you access to seven porn sites in all for the price of one. If you are really into big boobs then this offer is actually one of the best that you will ever get to enjoy that is a hundred percent dedicated to this type of niche.
Website Layout
As what we have already mentioned above, this porn site really gives their porn stars a lot of value. You can see that in the way that they have designed their porn site as well. Upon landing on the homepage, you will already get to see a big banner showing their hottest ladies, along with a short paragraph about I Love Bitties, and an invitation to join their porn site. Their entire web design is fresh and clean to the eyes with a white background spotted with the I Love Bitties logo, which is kind of different, compared to the other black-themed websites that we are so used to seeing. Scrolling down, you will see a free trailer to give you an idea of how high quality their videos really are. This video can be watched and accessed by anyone – even those who have not yet signed up for the site. Below that, you will see the current site statistics and the latest news and updates that they have for their members. Right now, they have more than three hundred galleries, almost four hundred videos, and almost five thousand images in all, everything ready for you to enjoy streaming or downloading with the help of the site's fast servers. Then, another scroll down will finally show you their different offerings. The way that they show it is not by showing different thumbnails with clips from the video, as compared to other porn sites. Staying true to featuring their porn stars, their previews are all dedicated to showing the girls within their network. Hence, these thumbnails include photos of the models, their names, their age, and finally the size of their amazing tatas. Then of course, after a few scrolls more, you will then see the different links leading to the other porn sites within the network.
Website Content
If you are looking for a certain type of girl and aesthetic then you will definitely enjoy I Love Bitties because they don't really have a specific nationality or type in feature. They have blondes, brunettes, Latinas – they really offer a huge variety of different girls for you to choose from. And once you have selected one, we recommend for you to check if the girl already has a website of her own. In this way, you can get to enjoy more of her videos and her tits. Just know that the only common denominator that these girls have with each other is their gigantic boobs. As for the videos, they have generally covered almost all of the different genres as well, especially those that have something to do with boobs.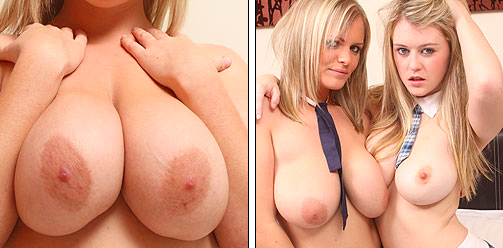 In Few Words
Overall, if you are a sucker for big natural boobs, then we definitely recommend this site for you. You will never regret doing so with their selection of boobs, beauties, and high-quality videos to choose from.
How much costs enter the ILoveBitties site?
3 days $4.95
1 month $29.95
3 months $59.95
6 months $89.95