HornyPencil.com Review
HornyPencil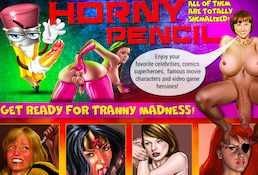 On HornyPencil you can enjoy some of the greatest porn drawings that you have ever seen.
00000
HornyPencil Review
Website Intro
The HornyPencil is a new site of a company that focuses on providing the horny audience with comic-cartoon and 3D pornography. On this website, you can find drawings of celebrities and famous characters in sexually explicit positions, doing some hardcore sex, and even having a fun time with themselves. The HornyPencil has a main niche, which is quite kinky and we could even say really perverted: the girls are all made to be shemales – no matter who you are looking for, you can find her here with a cock instead of a pussy. It doesn't matter if it's Wonder Woman, or Gillian Anderson, you will see them as girls with a cock. They don't seem to have a pussy on these pictures, so the sex is usually anal, which makes it much kinkier. Well, these were our first insights of the content, let's dig a bit deeper and see what we can mine for you.
This site is run by the same company that brought the Insane3D to life, which is a fine hardcore porn site, with 3D fantasy-porn content. Here you won't find 3D stuff, at least that's not the main content, but these hand-drawn pictures are looking really good, and they are quite sexy. The site seems to keep updating, but it's way too early to state any facts about it, because it's really a new site. It's only a few months old. The content is fully exclusive, and these pictures are not available on other website of the company neither. And it's quite unlikely that you can browse them on not company-related portals. The artists created a fine selection of pornographic pictures for this site, and this genuine content is something you have to see. Fortunately, there are some extras too: you gain access to the other company sites too, so we can say that it's a network. Well, to be honest, the actual number content isn't too much, but according to our calculations, you gain access to a hundred videos and about 150-200 picture sets, including the HornyPencil's collection. There are weekly additions on the network, the Insane3D is the flagship site, there you can find new content every week, and though the Xeno3DX and the 3DXTube don't have much genuine content, they seem to offer some more for you. One of the best features of the advertisement-free members' area. It's quite unusual for new sites not to depend on advertising revenue, but the guys behind these portals seem to be confident about the success of their content.
Website Layout
A nicely designed, fully customized home page welcomes you when you go to the HornyPencil to explore its content. It's a teaser tour page, and there are no videos on the site, so preview trailers are not available – though a juicy slideshow would be convincing. You can see only soft pictures listed on the site, and apart from some occasionally appearing cocks, you mostly see the faces of the celebrities you can find on the actual content. As you can see there are some finely drawn pictures here, and they make a man curious about the actual, the sexier stills too. So, let us join and take a look on the members' area. When you enter the site, you will find yourself in front of a simply-built page. It has everything you need in order to satisfy your navigation needs, and with no advertisement flashing around, this even looks far better and clear. There is a menu, where you can reach the site's content, and those extras too, including the bonus sites and the Flash-games.
There is a mobile interface for the HornyPencil, so you can enjoy the hardcore drawings on your tablet or smart phone too. The site doesn't offer you actual video content, but the network sites actually have some. Those scenes are available for in-browser playing, and you may also download them to your hard drive. MP4 files are granted to you. The main content, the sexy picture sets are looking really great. They come in high resolution, and they are all computer drawings, not scanned pictures, so they are quite handsome. You can browse them in the browser, one by one, but our suggestion is to save them, and set up an automatic slideshow for better viewing experience – and your hands will be free too.
Website Content
The girls on the site are coming from two areas: actual, real-life celebrities, and imaginary girls. For example, you can see here pornstars and movie stars, or even singers appearing, so you can expect some gorgeous drawings of Angelina Jolie or Gillian Anderson. Most of the featured girls are imaginary ones, thus you can run into shemalized Wonder Woman, Rogue from the X-Men, or Storm of the X-Men, but the hot wife of the Incredibles also appears on a set of photos. They are looking good, and feminine, but if you go lower, you will find that they are different. Every model of the site is made to be a shemale, so they may be cute, sexy, and they may have fine breasts, but instead of a sweet clit, they have a large cock. This makes sure that the site is only for dedicated audience, and also it makes the collection to be a heavy hardcore one. Don't expect to find here only modeling pictures. The imagination of the artists is really a dirty one, because they brought together stars of different worlds to fuck each other in the ass. This is shemale on shemale porn, and it looks quite juicy, if you enjoy watching this kind of intercourse, then you are free to explore this site.
In Few Words
The HornyPencil is promising, and it's quite unique in this area. Real-life porn can get boring sometimes, and this site, along with the other sites of this company offers a fine alternative to get away from mainstream porn for a time. The pictures are nicely drawn, the girls are made to look hot, and with the included extra 3D content, the compilation is pretty much worth to explore.
How much costs enter HornyPencil site?
7 days for $14.95
1 month $34.95
3 months $59.95