HentaiCinema.com Review
HentaiCinema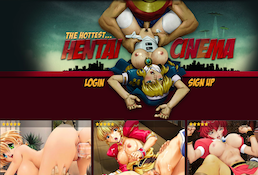 HentaiCinema will be your ultimate destination if you are looking for exclusive and amazing hentai porn videos.
00000
HentaiCinema Review
Website Intro
HentaiCinema is a top hentai animated porn site presented by the HentaiPassword Network. HentaiCinema offers an amazing collection of the hottest Japanese animated porn scenes that will drive you crazy, just watching it. Right from the quality of animation, to the depiction of porn scenes and the storylines, HentaiCinema has everything you need for a memorable and long-lasting jerk-off session. HentaiCinema is one site you must have in your porn collection and you will find out why when you read this comprehensive review presented to you below.
Website Layout
HentaiCinema offers a very simple, yet easily navigable porn site that makes finding what you need a breeze through. There are only two links you will find on HentaiCinema, and this includes the login and sign up links. The rest of the site is dedicated to the umpteen videos that HentaiCinema offers. The videos are organized in a grid that allows easy searching for the videos of your choice, without any difficulty, even in the absence of a search tool.
There are about 60 videos in the homepage and with a total of about 40 such pages, there are over 2400 videos at your disposal. The video thumbnails indicate the runtime of the videos, the date of upload, and the star rating. The thumbnails themselves are very interesting to watch, and offers you a glimpse of the most important part of the sex session.
Subscription is simple, easy and affordable and comes with a trial membership and two full membership plans. The trial membership lasts for 3 days, while the full membership plans include a monthly and a quarterly plan. The quarterly plan offers discounts while the monthly plan is affordable and is also more popular. Membership also gives you free access to 10 other sites in the HentaiPassword network.
Website Content
You will be astounded when you watch the videos and girls presented on HentaiCinema. The quality of animation is so good that you will feel that they are not animated characters but true to life chicks who love to get their asses and pussies raided and pounded with gay abandon. The animated sluts are shown possessing the most luscious boobs you've ever seen. They are bigger than the biggest boobs you will see in real-life. The nipples are way too perky than you can think of, and the guys love to play with such perky playthings. Pussies are pink, pubic areas clean-shaven and asses are super-tight.
There's nothing better in life than fucking such bitches. The videos are also awesome and show the sluts getting fucked in twosomes, threesomes, foursomes, orgies and gangbangs. You can jerk-off to double penetrations, pussy, anal and titty creampies, cum swallowing, multiple penetrations, object insertions, masturbation, public sex, blowjobs, multiple cock sucking, nipple play and breast play, among others.

In Few Words
To conclude we must say that HentaiCinema is a truly awesome porn site you can subscribe to. The animated videos are amazing to watch and so are the sexy bitches. The cuteness of the Japanese sluts is shown beautifully, and so are the emotions that these sluts experience when they are fucked hard. What's more, HentaiCinema is affordable and offers free access to 10 other sites in the network. What more do you want from a site? Join now and jerk-off to glory.
How much costs enter HentaiCinema site?
3 days $1.00
1 month $29.95
3 months $59.95