HarmonyVision.com Review
HarmonyVision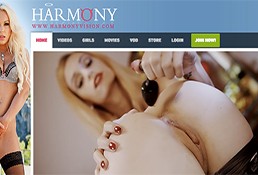 HarmonyVision has tons of exciting porn stars and hardcore porn movies.
00000
HarmonyVision Review
Website Intro
We all enjoy diversity in porn. This assures that even very specific and demanding people get a specially made product. There are Indian lovers, brunette lovers, red-head aficionados, etc. So, It's not a surprise to know there are fans of british girls. With beautiful European looks, british girls can seduce you with slender and long legs, beautiful golden hair and a hidden lust behind the formal education. HarmonyVision explore Britain and its most extravagant and sensual girls while they engage in hardcore action. There's not only british girls, as the site tries to explore a global audience. Launched in 2012, hosting a great number of exclusive and complete movies, it's almost unbelievable that HarmonyVision remains little known for so many people. In an extensive and proper look into the site, we'll try to uncover the material, features and quality of productions to answer a simple question: does it worth your money?
Website Layout
HarmonyVision's layout is pleasant and colorful. The homepage gives visitors a quick preview of the site's content through a compiled and well-edited video. Making sure this is no softcore place, the trailer content heavy anal pounding, sloppy blowjobs, double penetrations and many more. HarmonyVision produces complete movies, which scenes can be accessed individually by the members. Is nice to see there's so much effort in making big production-value products, with pleasant and elegant covers and stunningly performed sex. Scenes are organized by release date, showcasing number of views and times favorited. In each particular scene page, you have access to description, various tags to improve searching and cast. There's mobile access, with proper layout adapted for smartphones, tablets and various devices with internet, including android and Apple devices. You'll found more than a hundred exclusive DVDs to explore, with a great variety of genres and fetishes, such as anal, latex clothes and multiple penetrations. The model selection is completely impressive and extensive! There are more than eighthundred different models are well established through the scenes and movies. This is an immensurable quantity even for the biggest and most famous porn sites. If you're not interested in subscription, or interested only in a single DVD, HarmonyVision has an online store, where you can stream or download a single movie or even buy a physical copy. Trying to give visitors or members a nice sexy experience, HarmonyVision has even an online store of sexy toys, clothing and accessories, extending your experience beyond the monitor screen. We are actually pretty impressed by the first look of the site, and exploring the specific sections and little details of HarmonyVision have definitively made us even more curious about the content. Let's take a look at the girl selection and video production/quality.
Website Content
The best part of HarmonyVision is the number of models in its catalog. There's an impressive eighthundred of models, and this number is constantly growing with not weekly, but daily updates! We can only wonder if the site objective is to turn into a porn encyclopedia. In between amateur or newcomers, HarmonyVision provides exclusive hardcore scenes with well-known pornstars, such as the award-winning and unfortunately retired Brooklyn Lee, the experient MILF Tory Lane and world-famous Tori Black. These pornstars are known for their professionalism and lust, being some of the most wicked and appreciated performers in the business. It's really impressive to see known models and newbies in action-packed scenes, exploring many positions, scenarios and fetishes. You can see Bobbi Starr sucking a double-dildo with Nikki Jayne, Keira Farell being dominated while using latex clothes, or a completely newbie giving a blowjob. Daily updates are promised by the site, making its library of more than a hundred movies, each one with approximately 100min, even bigger and more astonishing. All the most recent scenes are shot in HD, making the best use of professional cameras, swapping from gonzo-style recording with a more realistic feel to static cameras that moves only to provide the best angle of the hardcore action. The directors explore everything expected for hardcore scenes: anal, blowjobs, double penetrations, interracial sex, cum swapping, orgies, ass to mouth, tit-fuck and many positions. There's a constant care in making high-value material. The editing and directing adapt well depending in the movie atmosphere, using colorful tones and bright lights when focusing in hardcore, yet conventional scenes, and exploring more dark illumination and dungeon-places in domination scenes. Multiples locations are used in the shootings, including houses, mansions, pools and hotel rooms. These are not cheap places to rent for shooting, so we can assume that HarmonyVisions' producers are targeting top-quality products. The girls are also well-selected for the respective fetishes, using more innocent-looking girls in the softer scenes and choosing more experienced models to guarantee a wicked, lustful action, packed with ass to mouth, anal, deepthroats, submissive acting, double penetrations and other acts. Professionalism is the best word to describe HarmonyVision product and production, being a big competitor in an already saturated industry, making sure to stand firm and continue to grow.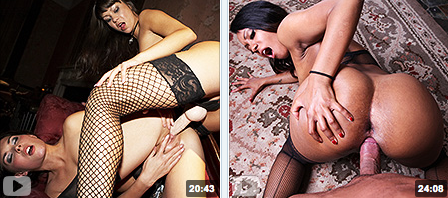 In Few Words
With an enviable library of exclusive scenes and complete HD movies, a real encyclopedia of models in its catalog and pure professionalism in shooting, directing and post-production, it's unknown why HarmonyVision remains in such a low profile. The site is far from being unrecognized by porn lovers, but it has all the attributes, features and quality to become as famous as huge companies, such as BangBros and EvilAngel. You can find newbies, less-known models and even loved pornstars such as Bobbi Starr, Tory Lane and Brooklyn Lee, all in handcrafted scenes, exclusive to HarmonyVision members. The production, direction and editing is borderline close to perfection. With renowned directors at their best creating some incredible hardcore scenes, with a wickedness not easily found, the final product is truly amazing. If you're not looking for membership, but got interested in some of the material, HarmonyVision has an online shop where you can stream or download a scene, a complete movie or even obtain a physical copy of your desired DVD. Providing high-quality content, top pornstar scenes, quality of production and a constantly updated site, HarmonyVision is a top competitor that have everything you may be looking for. Does it worth your money? Absolutely!
How much costs enter the HarmonyVision site?
1 day at $1.95
1 month at $29.95
3 months at $69.95
1 year at $129.95