HappyTugs.com Review
HappyTugs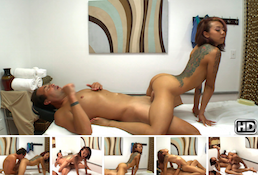 HappyTugs has an incredible collection of massages porn videos with happy ending.
00000
HappyTugs Review
Website Intro
Did you have a busy day and you just felt like relaxing? If that is the case, you might want to swing by an Asian massage parlor owned by HappyTugs. Once you are there, you can have some good looking masseuse give you a good massage – and maybe even more than that. Beware though, because if you choose to get more than a massage, you will end up on the Internet and to be precise, you might be featured on the HappyTugs web site. But I guess that is just a worthy price to pay compared to the rare Oriental treats that you will be enjoying. Anyway, HappyTugs is a fairly new Asian massage and hand job and/or blow job site from the Reality Kings crew. The site features lovely Asian masseuse ladies giving hand jobs and sucking and fucking their customers to kingdom cum. Happy Tugs captures hidden camera footage from inside one of the world's best sexual massage parlors. Random dudes come looking for a little rub down and, for some extra few dollars more, they get a full servicing.
Website Layout
The contents of the web site HappyTugs are exclusive and as real as they can get. The quality of the porn scenes are mostly in Full High Definition and you can opt for many choices in terms of downloading the videos for your collection. Flash streams are offered in multiple quality formats, the larger files also offers filmstrip navigation and a cool new feature called 'Jump to Action', which lets you jump to any point in the scene based on keywords and preview thumbs like sex, blowjob, cumshot, etc. Downloading the video can be done in full, as large clips or as 1-minute clips. iPod/PSP options are also available.
As a part of the Reality Kings Network, your membership here also gives access to other specialty sites under their banner. The web site itself also has many browsing and user options. Regarding the web page interface, the site design is integrated into one for the rest of its sister sites, it has easy to browse member's area. Content can be listed for each site alone, or all together by date, by category, by model, etc. All porn stars and categories are linked with other Network scenes. There is also a comments and rating section. HappyTugs has been around since 2010 or 2011 so considering the fact that there are just around 54 scenes to check out, it is obviously not averaging that many updates per month/year. So what happens is that users will have to rely on the Network access to keep them company while waiting for the next update.
Website Content
Most scenes take place in the same location, giving the real feel of a massage room and while the men may start off with their private bits covered, most get exactly what they bargained for with hot hand jobs, blow jobs and especially sex. So this is what happens in HappyTugs, cameras have been hidden inside a massage parlor and they capture everything that goes on in the place, so they're filming as random guys come in, get undressed and get massaged. The cameras are also rolling when the girls tell the men that if they are willing to pay a little more, they will get naked, stroke their cocks and let them fuck their pussies.
Now regarding the models of this web site, they are really true blue Asian chicks and they do not speak English in a great manner, so do not expect too much dirty talk. But you can expect a lot of noises like some grunting, heavy breathing and a lot high pitched moans, and most especially hairy tight pussies, just as what you would expect from an Asian girl who does often meet enormous cocks. These sweet girls don't hold back either, and quickly get naked to get the guy even harder. Not only that, but they will get up on top and slip random guys dicks into their female oriental orifice. All of the girls are super hot, and are not pornstars, they're just girls that love dick. Happy Tugs features Chinese girls, Filipinos, Koreans, etc, the list just goes on. No matter where they come from, all of the women on this site like to jerk off white men. Some of them even let their friends come in and join so the guy can get a double handy from to hot Asians. Another thing to note is that the absence of censorship, so you can really see everything going in every nook and cranny. The sex performers slash masseuse all vary in shapes and sizes. Some are sexy skinny and some are a bit chubby but very delicious. Some have huge racks, some have average, and some have not so big boobs. But all of them are very flawless and they are ready to fuck the next guy that comes inside their little massage room.

In Few Words
HappyTugs is a fun and exciting massage porn site that has so much potential. It has a great concept, the content is exclusive and original, and the quality of video is also nice. The web site is very minute at the moment, but regular updates are being added and the bonus site access should help you wait in the meantime. It is an almost perfect little niche site with an impressive selection of Asian chicks. It is a web site that is not so big, so it does not quite make it to the top of the massage/ blow job/ hand job/ sex themed porn sites out there. But when you include the fact that it is part of the Reality Kings network, it might still be a good option. The web site is also fairly easy to navigate and it lack annoying ads which is nice. If you take everything in consideration, HappyTugs is worth checking out.
How much costs enter HappyTugs site?
2 days for $1.00
1 month $17.99
3 months $49.99
1 year for $95.99