GynoViolations.com Review
GynoViolations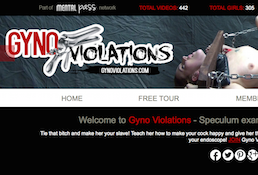 GynoViolations has a lot of porn videos featuring amateur models.
00000
GynoViolations Review
Website Intro
Czech Republic is at it again. I don't know what it is about this central European country, but they seem to love sex a lot. GynoViolations is another BDSM site, which features the usually sexy girls from the country engaging in all manner of crazy sexual acts. This Slavic country has taken porn to whole other level, and they don't look like they are about to stop. The site is part of the large Mental Pass network. Be careful not to go mental, when you see all the crazy action in GynoViolations.
Website Layout
Taking a tour on the site, you will notice the neatness of the design with a rather simple layout. You will be welcomed with huge screencaps. Upon logging in, you get to see recent updates for you to browse. There are some sorting options, which enables members to list photos and videos they like. You can arrange the scenes in alphabetical order or by release date. The site, however, doesn't have enough search browse tools, but still covers the basics of browsing. The updates come with crossed-linked category tags. Therefore, for example, if you are looking for an SM deepthroat scene, you will have to click on the 'deepthroat' tag to get a quick list of similar content. The model page has its own section. There no personal bio or stats about the models, but you can browse the girls and get access to all the scenes they appear in. The content is pretty scant as the larger Mental Pass Network is also not as big. However, the sizeable number of videos is regularly updated.
Website Content
The Czech girls have that natural beauty that was meant for porn lovers. They are freaky, full of fun and the scenes shot in this country feel real. The site is special and stands out in its content because of the way they entice innocent looking girls, who are obviously locals to go through some gyno checkup and end up being assaulted in a bizarre way you can't imagine. We are talking about all varieties of BDSM gear like ropes, belts, chains and all the kind. There is a lot of hardcore sex on the site with deepthroats, face spitting, whipping, sobbing and all kinds of hardcore sex you can possibly think of. The innocent Czech girls have their pussies checked then later end up being wrecked. The site is probably the nastiest I have ever seen from the Central European country. That stuff is seriously nasty and sick. The combination of the appeal of a next door European girl with the thrill of BDSM fetish action is what sets the mind on fire. I mean SM action usually is some dope professional porn. But these are just local girls. Local wannabe amateurs who simply want to make that big buck. So there is a bit of pleasant surprise here. These girls probably expected to do the normal doggy, blow job or missionary-style plain sex acts. Much to their surprise, things turn a little rough for them with all kinds of medical gear being used to assault their tight pussies and sexy bodies. The scenes can be previewed and members can stream the videos online or download them. The online playback starts quickly and the playback option is 704×396 pixels. The videos can be downloaded in HD quality of between (1280×720 to 1920×1080) pixels. The scenes are in MP4, WMV and WEBM formats. The scenes come with picture sets each containing above 200 images.
In few Words
The site has a fair collection of adult content although it is part of Mental Pass network. There are 5 other bonus sites with different niches. If you like amateurs from Czech Republic engaging in a variety of porn action then the site is good place to visit.
How much costs enter the GynoViolations site?
1 month at $24.95
3 months at $49.95
6 months at $84.95