GrandDadz.com Review
GrandDadz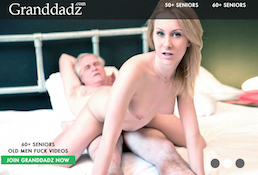 GrandDadz gives you hardcore high quality videos performed by old guys and fresh and innocent beauties.
00000
GrandDadz Review
Website Intro
Granddadz is a site where the opposites meet. Granddadz is a site that is directed towards a somewhat narrow audience, namely, they combine the old with the not so old. If you aren't into this kind of content be sure to check it out anyway as the quality of it is really high.
Website Layout
All the typical layout is present here as well and you won't get a lot of innovation, which in turn means that you will get around quickly on the site as the layout should be familiar to you. Here we have the grid layout into thumbnails and if you enter a link, you are a given a little longer description about the video itself as well as all the relevant options like the download quality and tags.
The visuals are in the same domain as the layout, not a lot of new and pretty but basic and simple. Which is good, simple means clean and nice. They flaunt around, neither do they put in many various colors or details that are unnecessary. A pretty straightforward approach that is rather good. Navigation is made easy and you can go through the videos in an easy manner. There are plenty of relevant tags that will lead to similar videos, there are also pictures below the video so there are no separate image galleries. The mobile version is present so you can view it on your mobile devices.
Website Content
When it comes to the content of Grandadz, you can be sure that this isn't your typical hardcore content that you are probably used to. The actors here aren't what you would call in their best shape and they are old as fuck. Granddadz exclusively hosts only content with really old guys. But enough about them, the girls here are some of the hottest girls, not only on this kind of site, but also one of the hottest girls on the web.
Girls here have very little experience, but they manage to make it up in their looks. Besides their apparent lack of skills, they are so fresh and innocent that once you see them fuck you will get a totally different experience. When it comes to the average length of the videos around here usually the number is around 20 minutes, and in that length, they included all the necessary scenes that you would like to see these chicks act in.
The videos are shot exceptionally and here I don't only mean the dudes behind the cameras, they do their job superbly. But rather the overall quality of the videos and the camera guys included. The environment in which the shots occur is really top notch and can go on par with 'better' sites. As mentioned the quality is excellent and the qualities that are available are as follows: Ultra HD, Full HD, 720p, 480p, and 240p. They certainly raise the stakes a lot. This all stands for mp4, WMV, on the other hand, is only in 480p and 240p.
There is a thing for every connection. Not a lot of videos are currently on the website itself and you will see around 60 videos here. Also, for each video, there is a photoset that was shot while the porn was filmed. The quality of these photos is equal to the great, awesome quality of the videos. Membership looks fairly decent for such high-quality videos and we have the one-month membership, six months, and a one-year membership as well.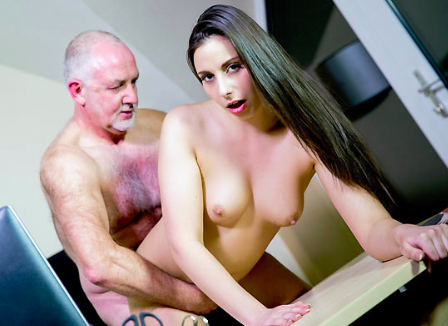 In Few Words
When it comes to this combination of old dudes and fresh chicks this site is the best it can be. You'll find excellent, high-quality videos that are shot in Ultra HD. Memberships also look alright and in all, if you aren't a fan, you are bound to become one sooner or later.
How much costs enter GrandDadz site?
1 month $29.95
6 months $19.95/month
1 year $9.95/month