GotFilled.com Review
GotFilled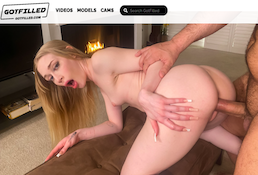 On GotFilled you will enjoy an amazing selection of creampie porn videos and super sexy models.
00000
GotFilled Review
Website Intro
Awesome 4K creampie porn site, GotFilled is all about sexy American porn superstars who love getting their pussies fucked, stuffed, and covered with hot jizz! Of course, you surely wish you could be the guy who can satisfy the needs of these horny ladies. Who wouldn't want that? However, you might quickly agree that while it is not impossible, it isn't likely to happen anytime soon. Lucky for you, there's an average-looking guy in this community who can keep your hopes high that anything is possible! Watch how he puts these gorgeous ladies under his mercy in 4K hardcore fucking scenarios. Just make sure to prepare rolls of tissue papers because the creampie endings would surely drive you to a massive release!
Website Layout
GotFilled is a collection you'll either love or hate or both; it's up to you. You'll love it because it is about a typical guy who just tries out his luck on different girls. You'll hate it because all the hot girls say yes to his invitation and you can only wish you can be as lucky as him. One thing is for sure, though. If you are into creampie porn, you'd never be able to say no to what this site has in store for you.
Whether you decided to check the official website on your desktop or mobile device, trust that you'll reap the benefits of a minimalist content presentation approach. You can conveniently enjoy every scene without even making an effort to sort them –they all look nice and tempting anyway.
However, since the site sticks to a consistent schedule of adding new videos, the creators ensure you have reliable browsing tools right where you want them to be. There's a basic search in case you're in rush. Now, if you want to take your time, you can check three pages for videos, models, and cams. You can also explore the categories and take advantage of the available tags. As a member, you are entitled to mark your favorites. There's also a rating section that encourages you to share whether you've been fully satisfied or not. The site also shows its care for its members by adding a comment section for each video.
Website Content
Gorgeous porn models such as Payton Preslee, Brenna Mc Kenna, Marilyn Johnson, Lily Lou, Charly Summer, and many more talented porn sweethearts can be seen being invited by a guy who looks way too ordinary. He always approaches the ladies with his camera, engages them in a quick chat, and then invites them to his place to do something unforgettable. You'd be amazed at how this average guy can make these beautiful ladies do everything he wants, including stripping, posing sexily for the camera, and masturbating. After the insane seduction shows, trust that the guy would give the girls their prices –loads of his cum on their swollen pussies!

In Few Words
GotFilled is definitely a creampie-focused porn collection that is well on its way to becoming one of the greatest presentations ever produced for the niche. The movies are oozing hot and the ladies are insanely sexy and beautiful. To top it all, their hunger for getting fucked and creampied will surely resonate with you wherever you go!
How much cost enter GotFilled site?
1 month $29.95
3 months $19.95/month
1 year $9.95/month