GentleDesire.com Review
GentleDesire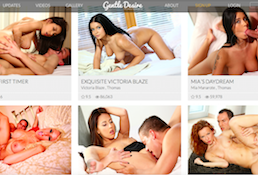 On GentleDesire you will get the most sensational softcore porn scenes that you have ever seen.
00000
GentleDesire Review
Website Intro
GentleDesire is a porn platform with a special focus on couple-friendly porn action filled with plenty of sensual touch and genuine emotional bonds between the sex partners. You will appreciate the theme of gentle sex as soon as you land on the homepage. The girls are hot tender and conspicuously thirsty of deep emotional sex encounters. It goes beyond sheer thrill on GentleDesire.
Website Layout
GentleDesire is simply designed; with a luxurious milk-white background as the dominant colour. I was swept away by the way the content is laid out. You catch the glamour fever immediately as you start your tour of the platform. You are treated to a host of user features that make your visit fun and enjoyable. I could click on any of the tagged images spaciously posted on the home page or start my session by selecting a model and following her in her performances. Users can also check out content from the list of categories to look up what they want from the drop-down menu.
Navigation has been sufficiently tweaked to make it easy to access content on GentleDesire. Mobile users can also check out content on the platform with their phones or on Tablets. The loading speed is impressive. Users can stream or download videos in a range of formats including a versatile MP4 that makes it possible to watch content in at least five quality specs. I could also check out videos in WMV format. if you wish to stream, there is the robust Flash Player embedded in the browser.
You could also choose to stream using the equally dynamic HTML5. The flicks are crisp-clear and come in the full HD specs of 1920x1080p. You are provided with weekly updates that make sure that you get your content fresh. It will keep you interested and entertained throughout your visits on GentleDesire. All the flicks I checked out on GentleDesire were in impressive quality and exclusive.
Website Content
The girls are gorgeous, sexy and attractive. They are the kind of models you wish to just keep watching. They are tall, glamorous and perfectly curved out for a beauty pageant; only, I don't know whether they've tried that. All of them would pass with a good grade on the beauty front. You are treated to a range of sex scenes that begin with a soft touch but culminate in steaming hot and tender sex encounters. There are lesbian and heterosexual encounters that you will love to watch with your spouse. The dudes are patient, well-endowed and virile looking. The emphasis on emotive sex is captured perfectly with the girls showing intense feeling in the heat of the moment.
I loved the range of sex acts that show girls tenderly clicking each other's cherries as they savour all the pleasure they can. They gasp, heave and squirm with lots of desire. GentleDesire is a real desire spark. I was ticked to the max as soon as I landed on the homepage. You are treated to hot nude scenes that will leave you practically wet.
Check out Silvie Deluxe in a soft, tender, and highly erotic and gentle encounter. Silvie allows Rasty to touch her tenderly all over her body. He kisses her full bum and reaches to her pussy to stroke it. Silvie is a gorgeous brunette with a curvaceous body, a pretty long face, and long beautiful hands. Rasty is a full-bodied dude who knows how lucky he is to have the hot model spreading for him. The scene evolves slowly until the two are captured in a steamy sex sessions that will make you want to jump into the screen of your device. There are enough videos to sample. Check out over 63 galleries with hundreds of photos to sample. There are over 26 flicks lined up for your viewing.

In Few Words
GentleDesire is a hot spot that presents you with hot sexy scenes that feature real soft and gentle partners in sex. You are treated to a lot of content and variety. All the videos are exclusive. The user-friendly features make a good case for joining GentleDesire.
How much costs enter GentleDesire site?
1 month $29.95
3 months $19.95/month
1 year $9.86/month