GaySnare.com Review
GaySnare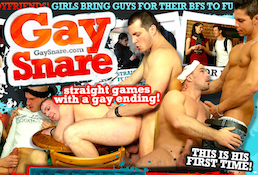 GaySnare provides great and exclusive gay porn content in high quality. Have a great time with horny European guys.
00000
GaySnare Review
Website Intro
Gaysnare is one of the best sites featuring sexy gay porn and it will be a perfect fit for you if you're tired of classical gay porn and now you're in the mood for something different and unique. Each scene comes with a great little twist – the main performer is, actually, straight. This exciting part of the plot is what makes Gaysnare one of the most interesting gay xxx sites on the Internet.
Website Layout
Gaysnare is a simply designed and well-executed site. It features homemade, amateur-type videos available in full HD resolution. Browsing through the site is very simple and because the content is well-divided and organized, not to mention exclusive and definitely hot. The site offers 13 scenes, featuring 13 different horny euro guys. There is a streaming version of each video, but if you prefer to download your favorite scenes, you'll have some great download options too. The downloads are available in three different formats: WMV, MPG, and MP4.  The WMVs are offered in full HD and the quality is pretty impressive.
If you are a fan of hot pictures, each video comes with its own photo gallery. The pictures are a good amateur quality and there is a whole bunch of them. Some videos come with as many as 450 different pics and you can download them individually or in ZIP files that are offered as well. The site is mobile ready, so you can watch the scenes on your desktop or on your smartphone, based on your preference.
Website Content
The main theme of Gaysnare is horny straight guys that are tricked into fucking other guys. Basically, there is always a girl that picks up a guy on the street and brings him home for a fuck session. Sometimes the guy knows there will be another dude waiting to fuck him there, but sometimes he thinks he's going to fuck a girl and then finds himself surprised by the girl's boyfriend. In both cases, you'll see him enjoying the other guy's cock very much while sucking it or riding it.
The great part about this site is the bonus content you'll get full access to by subscribing and it includes two other hot gay porn sites: GameForGay with 17 episodes and MyBFGay with 15. You can choose from a variety of subscription plans (monthly, 3 months and 1 year), but there is also 1-day trial with limited access available if you're still not sure that Gaysnare is the right place for you and you'd like to check it out before subscribing.
As far as the guys go, all of them are amateur European guys so you probably won't be able to understand what they're talking about, but with this hot hardcore content, the talk will be the last thing on your mind anyway. These guys simply love cocks and it will be a real treat watching them fuck in every position imaginable and cum all over each other's bodies. Another thing that makes it even more exciting is knowing that for some of them it's their first gay encounter ever but they still don't hold anything back.

In Few Words
Gaysnare is the paradise for hardcore gay porn fans. You'll see a great variety of horny euro guys with their uncut cocks, pleasing each other and grunting in ecstasy. If you love the idea of straight boys taking big dicks in their ass for the first time, then this is the chance for you to see all of that in all exclusive content and at a great price.
How much costs enter GaySnare site?
1 day $0.95
1 month $1.23/day
3 months $0.82/day
1 year $0.32/day
Warning: the website is not updated anymore, but you can find a very close one here