FuckTeam5.com Review
FuckTeam5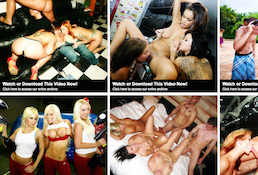 Hardcore sex, amazing pornstars and horny dudes are waiting for you on FuckTeam5.
00000
FuckTeam5 Review
Website Intro
The FuckTeam5 features a fantasy that every porn fan dreams of: fucking those hot girls we can see in the videos. Thanks to the crew of the BangBros, some very lucky Average Joes have the chance to fuck with the hottest pornstars they could think of. Those who thought that normal size is not enough are wrong, and it's quite enough to please three horny pornstars… just wait and you will see. This is a BangBros production, so you can expect here hardcore sex and amazingly hot girls. Everything is professionally made, with the exception of the guys, they are real home-dudes. The series launched in 2008 and during it's active years, it has accumulated more than 130 videos. The number may not look that big, but these videos are all more than 45 minutes long, so they ought to keep you busy for a good time. Unfortunately, the site doesn't seem to update any more, and the series is discontinued. Don't worry though, there are some bonuses for you inside. As a member, of the FuckTeam5 you become a member of the BangBros network, so you can enjoy the videos of the network sites. There are lots of hardcore scenes in there, and though this is isn't viral, most of the BangBros pages still have regular updates.
Website Layout
The simplicity of the home page of the FuckTeam5 is overwhelming, and some might find it even a bad thing. However, as all hardcore porn sites, this one also wants to make you to get inside, so they it just teases your fantasy. The big thumbnails are well-enough for that, and though there are no previews you can find out what this is all about. The members' area is the hub of the BangBros. In fact, you won't see the FuckTeam5's banner on the top, instead you see the network's. The search engine is an average one: it can mostly recognize model names and keyword, but it might be enough to find your way around. The main menu is located under the banner and the search field. From this menu, every important page is reachable: the videos, the girl and the sites. Also the bonus content is easy to reach from there, like the live cams and the dating site. Recently the BangBros has changed their policy, and newly registered members can only stream the videos, and it seems that the expiring accounts will also have the same fate. Thus being said, you can rest assured that the site is fast, and the streams are loading up really quickly. You don't even have to make compromises, because if it's possible, the videos are available in HD and Full-HD too. The videos are uploaded with a set of video captures, which you can save or browse in the browser. The FuckTeam5 has a neat mobile interface too, and it's possible to watch free trailers on the mobile site.
Website Content
The FuckTeam5 has videos that shows the ultimate battles you will wish you could've been fought in: in these videos trios of professional pornstars clash with big-mouth amateurs, who always claimed that they can do better. Now they have the chance, and as you might expect the FuckTeam5 videos are not just damned sexy, but they are quite fun to watch. These girls are sniffy with the Average Joes, and they really make fun of some of these guys. However, you have to give credit to the girls, because they are very sexy, and their cold professionalism makes these videos worth for watching. Since they are professionals, they are mostly upgraded, so you can find here some busty fakers, however a good number of natural, and even perky girls are features, so it's a real mix. Being professional also means that they always know what to do to make those lads horny, and sometimes just flashing their hot tits can be enough. There doesn't seem to be any Ebony girls appearing in the videos, but the Asian and Latina cuties bring a nice variety into the models' database. The site claims that the guys here are all amateurs, however, some of them are too well-hung, and they can do for too long to be real everyday lads. Nonetheless, if you just look at the thumbs on the tour page, you can see that some real homely dudes are there with average cocks, a bit of fat… and with a big lust for pussy. These videos are professionally made, and they mixed with reality-porn and fantasy elements, thus providing you not just a life-like situations, but also they are fitting into your fantasies. You can see as three girls take on one guy, but some nasty orgies are also featured (without swinger elements though). Since it's a BangBros site, you can rest assured that the quality is really good, and the sex is always rougher than you would expect. All videos are staged, and the guys know what they are getting, though their surprise is sometimes quite real. What happens is really varied. Not just because the girls are professionals, but they wishes and capabilities of the guys are different, however there is always one ultimate goal: to cover the faces of these girls with cum. What leads to this conclusion is sexy, hot, and in many cases really funny. The girls are scornful sometimes, but they handle any cock just as it were a nine-incher they work with every day.

In Few Words
The site's own collection is good, the 130+ scenes with their average length of 40-50 minutest they are exhausting too. Since there are always bonuses included in the membership, you can enjoy the performance of the girls at other BangBros sites, so if you finish off this collection, take a look at those extra sites.
How much costs enter the FuckTeam5 site?
1 day $1.00
1 month $29.95
1 year $119.40