FlowerTucci.com Review
FlowerTucci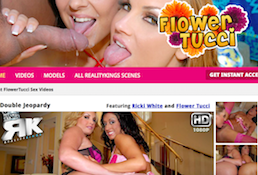 FlowerTucci is a must for every fan of hardcore porn and sexy pornstars.
00000
FlowerTucci Review
Website Intro
One woman can make the world a better place if she is blond, sexy and capable of taking in any size of cocks. Meet FlowerTucci, the horniest porn model and a real slut that likes to invite friends to her home for an afternoon fucking or an evening entertainment. Lovely face, hot sexy body and skills in making a man crazy with desire, may be the characteristics of most porn stars, but what distinguishes Flower is her unique talent: squirting. Give her a chance to make you horny with her sultry ways thus making your life exciting.
Website Layout
FlowerTucci has her own official site dedicated to the sexual adventures with her friends or strangers. This chick will make you feel really good, just give her a chance to show you how life can be better after some time alone and an orgasm or two. FlowerTucci has her own official site which makes part of a larger network called Realty Kings. By joining, you will automatically get an access pass for the whole network of porn sites. The various porn niches and sultry models will be a nice addition to the Flowers videos.
There are more reasons to join. First and foremost, the customer service 24/7 is top notch and the membership is 100% safe and secure. The material is exclusive and available only on Reality Kings network and nowhere else. A single month costs usually just a few bucks, but you can get a whole year for literally a couple of bucks per month. There are around 30 episodes and each comes with a nice set of 900×600 pictures as well as some video captures. The set of pictures you can download in ZIP format and there are around 500 pics in a set. The videos are lengthy, around 45 minutes each. The full-length downloads are offered in WMV (1260kbps, 720×480), MP4 (1280kbps, 768×432) and there is also a version for your mobile (750kbps, 320×180) device.
Website Content
You can suppose that one chick can't make a lot of movies or have many sexual interests, but your suppositions are wrong when you have a porn star of Flower Tucci's caliber. She is interesting, horny and willing to spread her legs as soon as she sees a big juicy dick. She eats them up and whole, like others eat an ice cream.
Everyone has his/her own pleasure sins and FlowerTucci has her hardcore pleasures to account for. She likes to share and loves to stick her tongue into pussy as well. Her friends voluntarily help her enjoy the sex entertainment she seeks and her squirting is evidence enough of joyful orgasms.
The content of the videos is exclusive. You won't likely find these scenes outside of the Reality Kings network. The real deal comes from accessing the entire network with a wide range of hardcore sex scenes and models to drool over. However, I adore Flower and I'm her devoted fan who believes that her videos are fantastic. You should manage the content with care, it is highly inflammable material and you are at risk to burst in flames of unstoppable desire, leading to your cumming all over the place.

In Few Words
FlowerTucci is the squirting princess and the queen of horny sluts in the porn world. She is everything you can desire from a woman. Blond, sexy, horny and entertaining, FlowerTucci will be your porn star of choice to turn to, whenever you want a release from your pent- up energies pressing you down. Most scenes here are groups, sometimes with more chicks and a lot of extra dick. There are also some terrific interracial scenes and a lot of anal action.
How much costs enter FlowerTucci site?
2 days $1.00
1 month $17.99
3 months $49.99
Warning: the website is not active anymore, but you can find a very close one here