FirstAnalQuest.com Review
FirstAnalQuest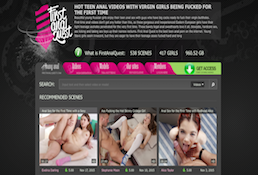 FirstAnalQuest has lot of amazing hardcore porn contents.
00000
FirstAnalQuest Review
Website Intro
When you search the web for anal sex, you usually get millions of results. If you have all time in the world and you start browsing the sites, you probably come to a conclusion with two important facts: the Europeans are nasty folks and they love anal sex; also they do very good porn with their gorgeous natural models. Now, the FirstAnalQuest offers you a collection of movies that feature hot European girls (well-under thirty) who are going to go through their first anal penetration. Apart from that the videos also feature some very hot sex with sucking and pussy fucking. Those who like the women of Europe will certainly appreciate the membership here. Not just because you get access to a neat compilation of heavy hardcore (yet glamorous) porn, but because of the extra content. All members of the FirstAnalQuest gain access to five additional porn site. These cover all popular hardcore niches, but the videos are usually haves some bit of kinky too. The FuckNDrive is a mix of fetish and cosplay, while the GFRampage offers cute girls having an exciting time with the guy with the camera.
Website Layout
If you don't believe that the FirstAnalQuest has amazing videos, you should just open the page and take a look. The tour page of the site is simple, but it offers a lot for you: you can watch trailers, and you also have the chance to go through the models' list. Anyhow, you will be satisfied to see how nice these girls are, and how eager they are to have their ass fucked. So, if you took the tour, you certainly got the picture about the videos. It's time to head in. The members' zone look different (it has another color theme in use) but the simple layout make it easy to navigate. A search engine can help you to narrow down the videos, however with only 27 scenes you won't really need that. All movies are available for in-browser watching, and you will find it that the quality is really good. There are three settings; if you have a good internet connection, you may go with the 720p, otherwise the Normal setting is better than the average. Each of these scenes are available for download too, so that may be a good option if you encounter any annoyance during in-browser playing. The photo galleries of the FirstAnalQuest are consisting of pictures that were shot during the intercourse or they were captured from the actual video. The sets are yours to browse from the members' zone, but you can also go for the zip downloads. You can access the FirstAnalQuest from your mobile phone or tablet, and it's certain that you will like what you see, because it's a nice user interface.
Website Content
The site promotes as it provides videos that feature gorgeous girls who are losing their anal virginity in front of the camera. Though that may not be one hundred percent true some of the models will make you believe that actually this is their first time with anal sex. All models you will see in these videos are hot European girls, originating mostly from Russia. If you like hardcore sex videos that feature amazingly cute models from Eastern-European countries. These types of girls are very popular in the porn industry, and if you are like so many other guys, you will be satisfied with them. As you look on these girls you might notice at the first time that they are naturals. Their shapely body is amazing, and with their different looks they might just be the best chicks you may have ever seen. There are girls with tight bodies and perky tits, however the medium or large fans will also find some cuties here that deserve their attention. These girls are not first-timers in the porn industry, and those who are always searching for the hottest fresh Euro-girl will certainly recognize some of them. A few among the girls maybe new in the industry, but there is a good chance that you already saw some of these girl on big network sites which focuses on Europeans. All movies of the site feature steamy and exciting sex. Each movies is staged, and they are possibly scripted, some even feature dialogues, though without Russian knowledge you won't really understand them; subtitles are not provided. Those who are annoyed by the always talking porn stars of the western porn movies, will find these videos to be really refreshing, since the girls here are not shouting things like "Oh, God! Fuck, Fuck, Fuck, Fuuuck!" and other unnecessary and overreacting sentences. What these couples perform is truly hot. In most cases, they try to do somewhat passionate porn, which also means that they kiss and caress a lot. Since the main focus here is on the anal sex, everything that happens before is part of the foreplay. As you can see it for yourself if you open a video, the girls are getting their fair share of licking, and for that they whistle on their fuckmate's cock like they were born to do that. There is vaginal penetration too, and the girls ride those cock hard and well… when everything is wet, the real fun can begin, and the lads stick their boner deep into those rectums. The exciting ass-pounding happens in different positions and ends with a creampie or an ordinary cum-shot.

In Few Words
The FirstAnalQuest is a satisfying site with exclusive hardcore content that will surely fit your taste. If you are a fan of gorgeous Europeans and anal sex, then it's quite sure that you will stick around the site for a good long time. The videos are captured in pretty good quality, and with the good lighting and bright environment, you can see all details of the girls' body. All videos feature full-round intercourses from the foreplay through the pounding in various positions to the end, which is usually a facial or a creampie. Don't forget to consider the network access when you are about to make a decision.
How much costs enter the FirstAnalQuest site?
1 month at $29.95
3 months at $18.98/month