EuroBabeFacials.com Review
EuroBabeFacials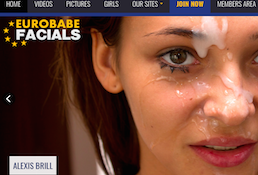 EuroBabeFacial gives you a lot of blowjob and hand job scenes with a little bit of hardcore sex.
00000
EuroBabeFacials Review
Website Intro
Awesome cumshot porn site from the Puffy Network, EuroBabeFacials brings you steamy hand jobs and blowjobs that will leave you sticky and wet. It has wide array of cumshot xxx scenes that feature charming faces that are ready to get coated with warm cum. All these scenes can be found in over 39 cumshot HD videos in the site.
Website Layout
The site gives an excellent browsing experience. It makes your sexual fantasies easier to fulfil. You won't have a hard time navigating the site and checking out its different sections because the main menu is just visible at the uppermost section of the site. Parts of the main menu are the link for the Videos section, the photos section, the models section and the bonus sites section. One thing that I like about it is that when you click on these links, they are responding very fast and they work according to what they're expected to do.
If you don't want to make your life harder, you can also try searching using the search engine tool of the site. Of course, there's also a button anywhere of these sections which could easily take you to the homepage of the site. Speaking of the homepage, the site's homepage contains a collection of close up shots of these European porn stars with a face full of jizz. This collection is already an eye-candy to everyone most especially that there are really some high-resolution images displayed here. Aside from the close up pictures, there are also some images that show off a naked body of these girls— big and perky tits, and pink and wet pussies.
There is also a video section in the homepage. These videos are divided into 5 categories: first is according to the recently uploaded videos; second is according to the most rated videos; third is according to the number of views; then according to the number of comments. These categories are very helpful so that users will be able to check out the videos that they want to see. In order to make the most out of these and to get these exclusive photos and videos, you have to be a member first.
Aside from these awesome site features, the site also has freebies to its members. One of them are the bonus sites that come from the membership. The following sites are Wet And Puffy, Wet and Pissy and We Like to Suck. These sites are also part of the Puffy Network which EuroBabeFacial belongs in. There are already over 44 full length videos in EuroBabeFacials' collection. Along with these videos, there's also a corresponding photo set. So that makes it 44 photo sets in the site too!
The videos that you can find here are all in excellent quality. These are more or less 1920×1080 resolution and can be viewed in many different ways such as streaming and downloading. It can also be viewed in mobile devices through the MP4 file format. Each of these videos is approximately 25 minutes long but there are also one minute clips that are available for downloading. The streaming player of the site is a large flash player. It is excellent because it can immediately jump through different portions of the video. It will also only take five to ten seconds to buffer the video and the playback quality is very smooth.
The download manager is also excellent. It can allow downloads to pause and resume. The photos are also excellent. In each photosets, there's an average of 115 pictures that you can enjoy. With this multitude, the site allows multiple size zips for downloads. All of these pictures have a dimension of 2848×4272 with minimal airbrushing and editing that it definitely looks semi-professional level of photography. There's also good lighting even though most of the pictures are taken indoors.
Website Content
What I like most about these girls is that they don't hesitate to take that huge dick into their mouth without reservations. They're all a bunch of hungry cock suckers and there's no denying about that. Even in the full length movies, you could see the enthusiasm and excitement in these girls faces despite the duration of the shoot. I have nothing to say against their performance because they are clearly great sexual performers most especially in the hand job and blowjob department. When it comes to the physical attributes of these ladies, I would say that they are all pretty cute and sexy at the same time.
There are approximately 43 models in the site and so far I've seen that these girls vary in age. Most of these girls are obviously European. Moreover, I'm quite surprised knowing that majority of these girls are amateur porn stars because I can't quite see anyone from them who performs poorly. So far I have not seen any variation in ethnicity since all these girls are white. In the videos, you'll see these pretty European faces suck all sorts of cock— big cocks, long cocks, white cocks. These girls know how to handle them all. In the end, these girls receive a generous amount of cum on their faces. Just when you thought you couldn't get something else apart from sucking dicks, there is also hardcore sex in the scenes.

In Few Words
They have gorgeous European girls that are willing to get coated with your warm load on their faces. One thing that's very interesting about this site is that the girls are performing very well that you wouldn't notice that majority of them are amateur girls. The site also has a great navigation that will help you make the most out of your porn watching. Lastly, with a cheap membership you can already have exclusive photos and videos and some bonus sites to enjoy.
How much costs enter EuroBabeFacials site?
2 days $2.95
1 month $29.95
3 months $24.98
6 months $17.50