EroticBeauty.com Review
EroticBeauty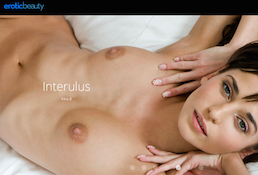 EroticBeauty is the best place where you can enjoy sensual and erotic porn photography.
00000
EroticBeauty Review
Website Intro
EroticBeauty is a soft-core adult website that has thousands of photographs of naked women in provocative poses. The images are shot by world's best erotica photographers. Brace yourself for a feast of the eyes as the world's most beautiful women show you their curves.
Website Layout
I have come across similar sites, but I feel EroticBeauty is way beyond their league. I like how the content is organized. The choice of colors and the theme itself evokes a sensual feeling. Navigating the site is as easy as clicking on menu tab items. There is no congestion of content on the site and everything is laid out in an organized manner. Talking of the design and layout, it's fresh and exciting.
A soon as you land, you're sure you will have a real treat.  There are dozens of images which are laid out on the tour page. As a visitor, you get to see what the page is all about and what to expect once you become a member. Another big plus about the site is the fact that you can skip 100 plus thumbnails and you do not have to go through all the pages.
Website Content
If you a porn fanatic like I am, I am 100% sure that you have checked out most of the adult sites available in the market. It reaches a point when you have seen it all and you yearn to look at something more sensual and enticing. Personally, I have gone through all the porn genres, lesbian scenes, female domination videos, gang bangs, gay porn, trans-videos and much more. So when a friend recommended that I check EroticBeauty, I knew it was going to leave my groins on fire. And it surely did!
The girls found on EroticBeauty are amateurs. 1,829 plus models are featured and the list is updated daily with new models.  They are strikingly beautiful and lovely. I did not see any of the top porn stars, celebrities or strippers I have seen elsewhere. And that's an aspect that makes it unpredictable. Unless you start digging through the library to view photos, you won't be able to tell what's in store.
Talking of photos,  they are around 4,241. Each gallery has more than 120 images. Images are shot professionally and they are of high quality. Each image has a tag of the day it was uploaded on the site with the most recently uploaded images emerging on top of the members' area page. As a member, you can rate and comment on the models, the images and the photographers.
The search box makes your work easier when it comes to browsing through the models and the photos. The models are categorized into most rated, recently added models and most searched. Erotic Beauty offers several membership plans. You can pay a recurring monthly fee, non-recurring monthly fee or recurring annual fee. The methods of payments are several and these are MasterCard. VISA, JCB, Diner and Discover. You are also eligible to a 24 hours trial, whereby you will only pay a minimal fee. The extras derived from this site are live feeds only.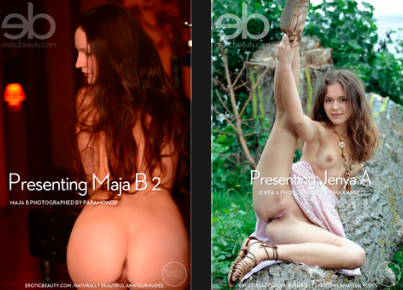 In Few Words
EroticBeauty is definitely the best site that I have come across in a long time in terms of design and layout. Porn has always been expensive, however, EroticBeauty is an exception. The membership to this site is very pocket friendly. The value derived from it cannot be compared to other highly paid for porn sites in the market. When it comes to the photos and the models, you can expect diversity. Check out EroticBeauty and you will not be disappointed.
How much costs enter EroticBeauty site?
1 month $29.99
1 year $8.33/month