DrunkHomeParty.com Review
DrunkHomeParty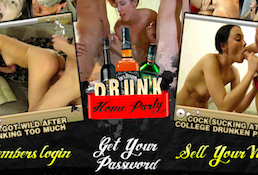 DrunkHomeParty offers unique and original amateur porn contents.
00000
DrunkHomeParty Review
Website Intro
The DrunkHomeParty was a standalone site earlier, but nowadays it offers much more than its own collection. The site's main niche is hardcore sex, featuring couples in an alcohol induced frenzy, fucking all over the place like crazy. Threesomes are also happening here, and with all these Euro-cuties, the girls do all the nasty things you would expect. As per its background, the DrunkHomeParty launched in 2010, and back in those days it was standalone. Later it offered access to a few sites, but nowadays, it's a gateway to awesomeness… but, we will return to it later. So, the site launched more than five years ago, and after a while it unfortunately stopped updating. Seemingly there were no more incoming home-made flicks, so there are only 30+ hardcore scenes. But, don't give up on the site yet. Since there were no new content, the folks behind it at the RoyalCash found another way to make the site interesting: they implemented it into the network of the TeenMegaWorld. It's true that there are some other sites that don't update any more, but the majority, the hottest sites of the TMW are updating regularly. Truth to be told, there are nearly daily updates throughout the network. If you like amateur porn, you can find several sites in the network which feature that too, but it's certain that after a while you will become more interested in the rest of the videos. The professional under-twenty and twenty-something chicks are gorgeous, and their nasty porn scenes are available in HD. So, the DrunkHomeParty may not look too good at first, but it has a badass bonus for you, and if you like Europeans and hardcore sex, it's a good place to start your journey through the TeenMegaWorld's reality.
Website Layout
The home page of the DrunkHomeParty feels really last century, and it also works like you would expect. There are no preview trailers, so you have to settle with the hot pictures listed through the site. Once you are in, the navigation shouldn't be a problem, you get everything you need to access the content. The menu is on the top, from there you can get to the separated pages of the videos and the photos. The inner section of the site is quite simple, and if you want better navigation tools, you might try logging in on the flagship site of the network. Once inside, you can easily switch the browsed site. Every video is accessible in the browser. For this, the DrunkHomeParty grants you a Flash-video stream, and the player is also based on the same technology. Since the site features amateur porn, you can expect here only 480p resolution at the best. When you try to download the videos, you can get some WMV files, offering the same quality. If you have VLC installed and you haven't set it up, you have to "right-click and Save As…" the videos, otherwise they might start playing. Photos are not available, but you can view some screenshots from the videos.
Website Content
There are some very hot European girls in the videos of the DrunkHomeParty. In most cases they really seem to be amateurs, and the videos also feel real, however in some cases, the whole thing seems to be set up… it might be safe to assume that there is a mix of amateur and reality-porn here. But, it's certain that these videos are unique, and those that look really home-made are actually home-made. Since the site is one of the many portals of the TeenMegaWorld, you can expect here mostly Russian girls and guys doing heavy sex, with all those elements which make European porn so popular. Those who enjoy watching hot girls and heavy sex will enjoy this collection. As far as the girls themselves are concerned, they are all hot, especially because they are naturals. It's quite interesting that on the DrunkHomeParty and on any of the TeenMegaWorld sites there isn't any fake girls, and their tight natural body is certainly something you should worship. Since in the US most chicks of this age have something fake on their body, it's a refreshing and exciting experience to enjoy good porn with girls who still have everything that nature granted them. What happens in these videos is hot, and quite regular, though the normal party-sex is mixed with some dirty porn elements, to make it more exciting. Now, if we assume that all videos are really home-made, then we get a strange picture about these couples: girls who let the guys stick a beer bottle in their ass are sick, and though it's a fetish-like stuff and it might not be that bad, it's weird and unhealthy. However, it's sure that the couples shot these videos on purpose, otherwise they probably weren't this bad. Nonetheless, apart from the nasty elements that you can usually see in professional porn the videos are quite exciting. There are some hot threesomes with double penetration, and these girls are opened for anything, so anal sex also happens in almost all scenes. There is really much videos that feature insertions, vaginal and anal alike, so if you have a bit of fetishist interest, you might enjoy these nasty scenes. The videos are not that long, but their circa 20 minutes of length is quite enough to get a man in the mood. Though their quality isn't great they feature good sex, and hot girls, and who needs more than these?

In Few Words
The DrunkHomeParty is quite an unfortunate site. It's too bad that it doesn't offer new content anymore, but fortunately, the network access is something that makes the site recommended still. On its own the collection isn't too big, but these are some nasty videos, so you should really watch them. When you are looking for videos that feature crazed cunts letting their boyfriend do whatever he wants, then you are at the right place. As for conclusion on the site, we should say it's not big, it's not viral, but it has juicy porn, and grants access to an amazing European porn network.
How much costs enter the DrunkHomeParty site?
2 days $1.00
1 month $29.95
3 months $59.95
1 year $7.50/month
Warning: the website is closed, but you can find a very close one here