DannisPlayground.com Review
DannisPlayground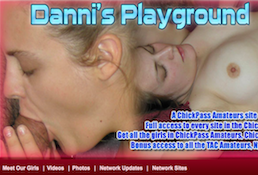 DannisPlayground provides hot and exclusive amateur porn videos that will keep you busy long time.
00000
DannisPlayground Review
Website Intro
DannisPlayground is one of the top HD amateur porn sites. The main attraction is Danni, a hot amateur blonde model that's always horny and loves showing off her skills on camera. Her videos are all shot in HD and feature a lot of hardcore one on one and solo content.
Website Layout
As a member of the ChickPass network, DannisPlayground has a recognizable design for anyone familiar with the network. The same pink background theme is used to highlight all the links, text and photos on the website. There is an advanced search feature but that may show content from other sites in the network also. The basic search function is the way to go as that only displays videos and photos from DannisPlayground. You can also browse stuff by photo and video separately.
Links to other member sites are featured on the site as well. If you don't choose a sorting method from those listed above, the vid caps you will see will usually be displayed in chronological order, starting with the most recent uploads. DannisPlayground offers three membership plans that grant access to the entire network and unlimited downloads of photo galleries and videos. Mobile support is also available for members and multiple video formats compatible with various mobile devices are available too. So unless you can be satisfied with a limited two-day trial, you can pick anyone of the three longer plans for 30 days, 90 days, or 365 days. These plans will give you access to hot HD amateur content featuring slim Danni and her many sexual partners. Members can also leave feedback in the form of comments and they can also rate their favorite videos. As a member you can also tag favorite videos for easier access during future visits to the site.
Website Content
Danni is a 5'7" chick with a slim body and average sized tits. Her hair is blonde and she occasionally wears glasses in her scenes. Her pussy is sometimes completely shaved and sometimes she leaves some hint of hair down there. She does not qualify however for the hairy genre in porn. Danni seems to prefer women more than men in her scenes which is odd because she's dating a guy. You can even see him in some of the scenes. In some scenes she even blows and fucks other male models with the same enthusiasm she has when she's fingering a friend's pussy or eating her until climaxing. There are enough dick penetration scenes but personally I would prefer even more.
The videos are all in HD, which should be surprising for an amateur site but not so much when said site is part of the ChickPass network. There are both HD and SD download links available. Whether you care about quality or just download speeds, you'll be satisfied either way. There are also special mobile formats in SD quality for specific devices or older phone OS versions. Desktop users can download both MP4 and WMV files in HD. There are over 100 videos of Danni and just as many, if not more, photo galleries with at least 100 high res pictures in each. These galleries are archived in zip files and can be taken down by members at any time.

In Few Words
Danni is one of the fresh faces on the ChickPass network and one of the hottest also. This slim amateur model will keep you entertained with her many videos for a long time. The fact that the entire network is available for members is a huge plus for DannisPlayground and the smooth browsing experience is always welcomed.
How much costs enter DannisPlayground site?
2 days $2.95
1 month $24.95
3 months $49.95
1 year $79.95