CzechVR.com Review
CzechVR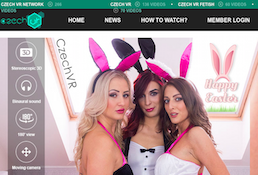 CzechVR provides a sensational collection of virtual reality porn videos and super hot Czech chicks.
00000
CzechVR Review
Website Intro
CzechVR is a great HD videos and 3D action porn site that offers state of the art movies featuring the most beautiful girls in Europe. These models are not just passive beauties. They bring their steaming-hot sexy bodies and seductive demeanor to your living room, offices, bedrooms and even right in your cars. A visit to CzechVR website gives you a chance to savor some of the best quality virtual reality porn entertainment on the internet.
Website Layout
CzechVR presents you with an array of user features that make the user interface on the site just as great as the entertainment provided. I was invited to a trailer tour that gave me a quick glimpse at the entertainment offered on the site. There are numerous tagged images that sail straight to the actual movies with a single click. You may also want to sample the flicks by category. A drop down menu is also provided to usher you to the various services offered.
Users can subscribe to any of the three plans provided. Three plans lie in wait: the one, three and six-month plans provided. Each of these plans is recurring and comes with unique offerings and limitations. All movies are in HD and 3D. You will be impressed with the 180 degrees angling view that you can afford with these virtual reality flicks. Even with the reasonable content already provided, the site updates its movie library twice every week. That is a great trend because it already has 121 movies in its fold.
You are not only treated to fresh content, but also assured of great entertainment in its volumes in the days to come. If you are one of those with an appetite for bonuses on your subscription, check out the arousing scenes in several bonus sites that are included in your subscription. There are up to six sites included in your plan. Some of the sites also give you the hot virtual reality movies at no extra cost. I was impressed with the content on such sites as Czech VR Casting, Czech VR Fetish, Czech GFs and many more. On top of the VR technology entertainment, there is the binaural sound system that you will love to listen to.
Website Content
The first thing you notice when you login into CzechVR is that all the girls are breathtakingly hot and attractive. There is no doubt that these are carefully selected cuties from the nation that gives the world most of its best women. It's hard to describe the stunning beauty that these girls are endowed with but let's relate it to angelic looks. I mean, the models look so gorgeous and tender that you imagine they would snap at the sight of a monster cock. Yet, monster cock is their specialty and delicacy.
They are featured in various scenes sucking and riding cocks with such glee that you would think it's their first or last time; yet they do it again, and again. The dudes are often on the receiving end in these scenes. The girls are real tigresses. Well, I should also be talking about you and me. Since these are virtual reality movies, some of the scenes present you with girls that are dedicated to entertain you in one-on-one encounters. She moves close and rubs her nude body against yours. As a fully functional being, you will have no control over the reaction that ensues thereafter.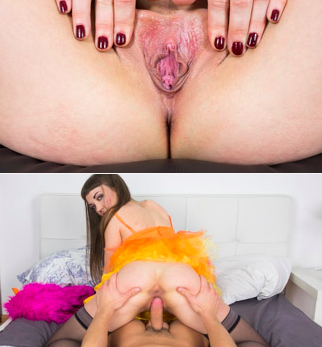 In Few Words
Equipped with virtual reality tools and hot girls, CzechVR rocks the porn world. I had my VR headset on, and the Oculus technology at my service, the rest was left to the models to run the show. They did run the show so fast that I think they ran over me with their sexy hot bodies and seductive demeanor. I mean, I absolutely loved it. The site also has a useful and functional user interface.
How much costs enter CzechVR site?
1 month $24.95
3 months $49.95
6 months $84.95