CzechHarem.com Review
CzechHarem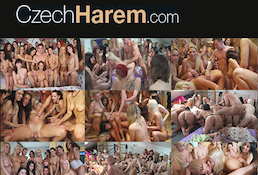 CzechHarem gives you unique and original orgies and group sex videos.
00000
CzechHarem Review
Website Intro
If you think excess of everything is bad, then CzechHarem is going to be very, very bad – in a good way. CzechHarem is a veritable cornucopia (pornucopia) of startlingly superior quality content. Sure, the Internet is magical in the sense that it's a fascinatingly vast repository of wet, naked women showing off their goods for your pleasure – videos and pictures and GIFS – you name it. But there's the matter of taste, which differs from man to man. And most times, when you're just looking to rub a nice hard one out, you don't want to frustrate yourself looking for exactly what you want. And if what really, gets you off is tons and tons of gorgeous Caucasian women slobbering and bending over backwards for your giant, quivering hard-on, then CzechHarem is worth checking out.
The basic concept of CzechHarem is exclusive to the site – a reverse gang-bang. Unlike other sites where the gang-bang is all about the women being pounded by two, sometimes three dudes at a time, CzechHarem is just about the man being served by a whole squadron of women with just one end goal – to please their lord and master. This is the part where the excess comes in – the women don't come in pairs or threesomes. There are entire rooms filled with pussy in all its glory fawning all over just one man.
Website Layout
Here is where CzechHarem is a winner. The layout and presentation of all the listing and video libraries puts you at ease. A very intelligently picked dark backdrop sets the tone for the site. More importantly, it's not cluttered with random pop ups and clandestine advertising – you know, those annoying neon-colored flashing banners and distracting GIFs. It's clear and easy to scroll through, and none of the buttons redirect you to unrelated sites. While the theme is the same in all the porn episodes, there is still a lot of variety – for instance MILFs, lesbians, or specifically blow jobs. So, navigation is key.
The design is very easy to navigate so that you find exactly what you're looking for. The only thing you'll be losing yourself in is all that gorgeous milky flesh on display – hordes of it. Obviously, a premium offering like this is bound to come at a price. But thankfully, the membership for CzechHarem is very reasonable. What's more – it even allows you access to 11 other CzechAV sites. The registration is barely a five-minute process. Most importantly, the bare minimum information you do disclose during signing up is completely confidential.
So, this massive haven of delicious Czech beauties is always kept a secret between you and your cock. Each video is listed in a giant, widescreen window with the duration listed right above. So, whether you're looking for a quickly or you're in the mood for a more compelling and satisfying experience – you can choose to go through whatever you like.
Website Content
There is a large variety of beautiful women available on the Internet – from hot passionate Latinas and coy Japanese girls with taut, lithe frames to big-boobed MILFs. But CzechHarem is all about those classical beauties that look like they've just been scooped off a Viking village. All these women can best be described as naughty, sexy Norse goddesses. Whether you like big pendulous racks hanging off a curvy red head or you're enchanted by bewitching raven heads with taut, hard nipples – you're going to find it all on CzechHarem. More importantly, they are willing, worshipping and submissive or domineering and in-control – you'll find multitudes of them attending to just one cock, lording over them all.
The climax is just as important as the build-up to the stories. When these horny, charged up Czech women aren't committed with the cock, they're keeping themselves busy by feeling each other up – squeezing their tits, sucking some pussy. You can hear them moan and groan clearly as they wait impatiently to be filled with that cock, whilst arousing each other. Sometimes they even help themselves by fingering their big hard nipples to get the lucky dude's attention.
Unlike other so-called professional sites, all these hot models on CzechHarem are completely authentic – meaning the sluts, bitches and sirens are naturally endowed with all requirements, without any artificial augmentation; be it their curves, breasts, suckable nipples, fuckable pussies and asses that need a sound spanking. The realness of the experience makes it all the more dramatic and satisfactory.
The lovely natural light in all these films just highlights their natural beauty. And they're all really into the whole experience – be it taking some hard pounding or waiting their turns while flapping their titties or taking a cum shot in the face. None of it is affected or contrived. When real women are out to have fun, there is no need for any acting. The videos are high-quality with backdrops ranging from airy, spacious flats to exotic bath houses. The aim of all these stories is to provide you with a complete, uninterrupted experience – it's all about the atmosphere. All the videos stream at a high speed, making sure your fantasies do not have to be compromised with unwarranted pauses. The sound quality too is perfect for the scenario.
In Few Words
CzechHarem happens to hit homerun by catering to the most primal of male fantasies – that of being lord of the land, capturing the most beautiful women of the kingdom and keeping them locked up for your pleasure. Except, here they don't need to be tied down or locked up or even courted into making themselves available. Right from the start, as soon as you open these pages, you'll find yourself aroused and ready. But be patient – take the full free tour to know exactly what this site is all about.
The discretion and professionalism of the site is the other factor that should help you make that decision. Besides, they update CzechHarem regularly, so that you always have fresh videos to jerk off to and never get tired of it all. You're going to have hours and hours of pleasure available at your fingertips.
How much costs enter CzechHarem site?
1 month $29.95
3 months $64.95
6 months $99.95
Check out the other best pay porn sites OR read more on CzechHarem.com from other famous review sites.