CrazyXxx3dWorld.com Review
CrazyXxx3dWorld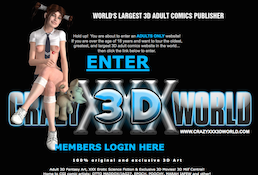 On CrazyXxx3dWorld you can watch exciting porn scenes in 3D.
00000
CrazyXxx3dWorld Review
Website Intro
Porn has been conjured into artistic form for you. If you have a knack and appetite for creative comic art in adult entertainment, you have a good nest to roost in. Crazyxxx3dworld is a unique porn site that focuses on the pleasures of 3D porn art comics. There are pretty models made up with a touch of ingenious. There are elements of fantasy involving the models having sex with strange looking creatures. It is absolutely unique and stunning.
Website Layout
The site stands out as an artistic comic porn platform with 3D video and photo content. There is a blue and black décor color that hints at the extra terrestrial aspects of the content. It is simply designed and presented with a mystic touch of evolutionary art. There is an impressive flash tour service that provides visitors with a glimpse of what lies beyond. The animated pics on the site load quite easily and can be viewed on mobile devices too. There are no bonuses or extras but you get sufficient content for entertainment. The content is exclusive to the site. They upload some new videos once every week. It must be given to them that this is quite industrious. Such content, ordinarily, takes quite a lot of time and effort to produce. Although the navigation isn't very easy, there is a lot of creative content that makes you forget that a list of categories or some search tool would make navigation easier.
Website Content
You are exposed to plenty of hardcore sex encounters in which the normal and alien looking creatures are involved in steamy sex sessions with the girls. There is crazy display of artistic porn stunts involving extraordinary looking males in sexual encounters. There are some fucking episodes involving the attractive models with monster-like creatures. I got to see the comic models flirt with alien-like creatures and succumb to their sexual overtures. The lingerie is pretty, attractive, stylish, colorful and unique. There are plenty of nudity shows too. The milfs are endowed with sexy features that draw the viewer's attention at first site. I love the rounded bums, the large boobs and the curvaceous figures that characterize most of the girls on the platform. I was, for the first time, drawn to the world of fantasy; despite my mild resistance. I think I was curious all the time since there were already many outlandish erotica scenes I had viewed in a very short time. I proceeded to sift through and came to this scene in which a creature that looks like it had emerged straight from the Godzilla world kept thrusting its penis into a pretty looking comic model. I was impressed to learn that even these alien looking creatures have a taste for the largely human ways of doing it. The creature enjoyed a sensual episode with the girl sucking at its long sturdy cock before it couldn't hold its man milk any more. The alien held the girl by the buttocks and began a rhythmic pounding as it savored the inner warmth of the girl's vagina. There are plenty of videos to watch on the site. You have over 946 scenes to view and a similar number of galleries to sample. Each of the videos plays back for 1 minute of HD, while the galleries contain 60 photos each. Streaming can be done onsite with the embedded flash player. The downloadable video content is in WMV format.

In Few Words
Crazyxxx3dworld is a true comic art porn site with a lot of variety and a fantasy twist. They do a good job at keeping their content fresh by uploading at least one video per week. The animated graphics are professionally done and provide an almost real image of the best beauties we see around. The flash tour is a great idea that provides the user with a fast glimpse at the exclusive content.
How much costs enter the CrazyXxx3dWorld site?
1 month $39.95
3 months $69.95
1 year $89.95