ClubSweethearts.com Review
ClubSweethearts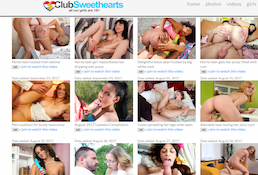 ClubSweethearts gives you some of the most exciting and dirty amateur porn videos performed by hot Euro chicks.
00000
ClubSweethearts Review
Website Intro
ClubSweethearts is a top amateur porn site in the amateur niche. The visitor can view thousands of performers who are in their prime. Before we get into the nitty gritties of this site, there are two things I have to say about it. One, ClubSweethearts is addictive, and two, it is extremely addictive (one may use a different adjective instead of extremely at one's own discretion)! If you're old enough to remember what your amateur girlfriends looked like, you may find the world created by this site quite nostalgic.
ClubSweethearts is the kind of site title that says it all. I don't know about other such sites, but on this one, all videos and photos have some of the hottest unknown stars of this generation. I've been checking out adult sites since www existed and this site does snarl at you to check it out. All the photos and videos are shot using start-of-the-art technology, and the way in which the site is organized reflects an understanding of the member experience. Many of the models/performers also understand the "member" experience, but that's a different kind of member! What happens when a hot girl or a hot couple are put in one video? That's an easy guess. With ClubSweethearts, you can finally see all the hottest Dutch girls humping their hot male counterparts on record. The performers find this highly enjoyable, and so will you, after you check out this all-new site with a nice spicy twist.
Website Layout
As a visitor, ClubSweethearts allows you to select girls individually and watch all the videos or photos they have starred in. It even shows a few of the girls' stats like when they participated in their first shoot, cup size, hair & eye color, and an overall rating. There are also thumbnails of the newest videos published on the home page. You also have separate sections for photos and videos.
Most of the models are from The Netherlands, however, there are a few from their other European neighbors as well. To be able to watch any of the videos, you have to be a member first. The site offers a very smooth membership process. For signing up, the visitor has to provide a valid email address, a password and choose a payment method. Those who have already signed up, can view the thousands of photo sets and videos available. But the good news is that the basic registration is free. The bad news is that to get what you want, you have to pay for it. Don't be surprised to click on links as your heart rate increases, with hopes of catching a girl (or stud, depending on your choice) getting dirty on screen, and then reminding you to pay for it. So what's the point of a "free" membership? Lots.
You can roam around the entire ClubSweethearts site to see what models they offer. As this site pulls in performers from all around the globe, most of the performers are Dutch. While some girls and dudes may be catching up on their beauty, others are showing off their best assets. There are plenty of free teaser photos. You can expect nothing but high resolution galleries, so screen captures are the flavor of the stills. The models offer a bit of information about themselves, which should help you gauge your potential interest in them. The site features over 3400 models with more than 5300 videos and over 9200 photo sets. Some of the staged porn is so fine, you will get the desire to recreate it in real life as well. There's something so special about seeing amateurs do the nasty, you can't stop imagining them to be someone you already know.
Website Content
Needless to say, all the ladies here are fresh and vibrant and all of their videos are in high-definition quality. In fact, we don't need to talk a great deal about them anymore. One thing that I would like to feature is that you would not have seen these girls on any other site for sure! They really are committed to providing you the stuff that you want twenty-four hours a day, seven days a week.
The girls, it goes without saying that all the smoking hot vixens are what you would call vibrantly, innocent looking chicks, and that to further expound on their beauty is already by itself an understatement, pretty sweet huh? Additionally, the sluts are the proud owners of the most amazing bodies, which can get you to stroking your cocks, especially when they are in their birthday suits.
The degree of its video quality is off the charts, all the videos on this porn site are either crisp or crystal clear in all level. I mean, the adult video contents on these videos are clearly shot using the latest HD cameras available, so yeah! For this to be a reality, they have ensured that they are doing all in their power to get the best directors as well as creative directors and, when you couple these two elements with the sexy and horny girls, you can be rest assured that the result will be something out of this world. ClubSweethearts will always make your life a little bit easier than you would have anticipated because they will get you all sorted out by, first of all, giving you all the high-quality videos that you want. You can also get to stay abreast of every single detail on the site thanks to the live feeds as well as some of the interactive shows that they always keep on running from time to time.

In Few Words
Using ClubSweethearts, the user doesn't have to worry about his personal jerking needs getting fulfilled, since the site protects this requirement with utmost intent. It has a very large selection of girls and guys, and features some of the best selections for the amateur porn niche. So regardless of your kink (or curl), you can loiter around the many categories until you find a winner. Prices for time vary, so check the site for details. If you want dirty amateur porn, then ClubSweethearts may give you a whale of a time! Did I mention that this site is addictive?
How much costs enter ClubSweethearts site?
1 day FREE
1 month $34.95
3 months $24.95/month
1 year $12.95/month
Check out the other best pay porn sites OR read more on ClubSweethearts.com from other famous review sites.