ClubSapphic.com Review
ClubSapphic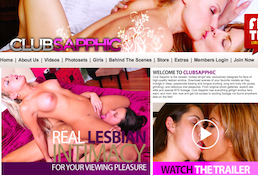 ClubSapphic provides a great collection of steamy lesbian porn videos.
00000
ClubSapphic Review
Website Intro
Hundreds of videos featuring over one hundred and fifty of the hottest lesbian porn stars make Clubsapphic a stunning resource for quality girl-on-girl erotica. The videos and photosets on this site are sure to keep guys, ladies and couples happy for quite some time. The site is no longer updated with new content, but the volume of exclusive archived content is well worth joining up.
Website Layout
The site design is a bit old-school, and less mobile friendly than some newer and more up to date sites, but that doesn't stop it from looking good. The trend towards sites with fewer categories, organized mainly by tags, makes an older site like this one, with a more extensive menu, look pretty dated. The menu really works, though, making it easy to search by model or look for your favorite video.
There are also plenty of extras for members, including some great behind-the-scenes footage exclusive to members, and blog entries by director Nica Noelle. There are also model blogs, a community forum and member reviews. The member reviews are a great place to start if you're not sure which models or scenes will appeal mostly to you. Find out more about the girls and the scenes they star in, and check out the star rating for each girl.
If you're not sure about signing up, check out the trailer featured on the home page, and the site tour. It gives you plenty of tantalizing images of sexy lesbians getting into some hot muff-diving action. The site promises real lesbian action, and the trailer and site tour definitely give the impression that these videos are full-on girl-on-girl fucking. It's all true: the members area gives you access to the full collection of scenes that feature two or more gorgeous girls getting it on every which way.
Website Content
There are more than 150 different models featured on Clubsapphic, from perky girls who seem brand-new to the business, to beautiful, busty milfs who are more than happy to show them the ropes. The site claims that all models are either bisexual or full-time lesbians, and the trailer says that the steaminess of the scenes is due to the real passion between the girls.
Whatever the reason, when these girls fuck, they do have a great time, and their orgasmic joy comes across really well in the well-filmed scenes. There's no big butch hairiness here. The girls are all great-looking, with soft natural bodies and beautiful boobs. Some are hairless, others have a neat bush, but all are well-groomed. If you're looking for variety, you're in the right place. The girls are of all races, with a range of blondes, brunettes and the occasional pale redhead.
The video quality is good, and definitely improved as the site matured, so that the later-posted videos are of a high quality. There's not much fuss with storylines and setup – the videos tend to open in what looks like the middle of a scenario and get to the action pretty quickly. That's no problem with this reviewer, since the whole reason I'm there is to watch hot chicks get each other wet and sticky. The sets are clean, well-lit and attractive, forming a good backdrop for the scenes.

In Few Words
This site should be really popular for couples, as the tender and erotic lovemaking between these great looking girls is a turn-on for guys and ladies. There's plenty here to enjoy, even though the site is no longer updated, and for the lover of steamy girl-on-girl action it's a treasure trove of incredibly sexy scenes featuring some seriously gorgeous models. Highly recommended for your viewing pleasure.
How much costs enter ClubSapphic site?
Free Trial
1 month $29.95
3 months $59.95
1 year $7.45/month
Check out the other best pay porn sites OR read more on ClubSapphic.com from other famous review sites.