BurningAngel.com Review
BurningAngel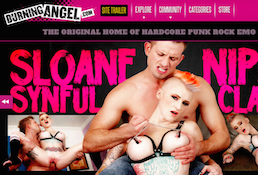 BurningAngel has an amazing collection of porn stuff that features hardcore content and tattooed chicks.
00000
BurningAngel Review
Website Intro
Burning Angel is a unique themed porn site that features cuties with rare uptown rock, punk and Goth swag that leaves you drooling and yearning for more if you are at grips with the excitement that comes with their swag. I loved the wild stunts and the spooky tattoos. The most captivating aspect for me was the sex adventures and the beauty that the girls are endowed with.
Website Layout
Burning Angel is wrapped in a black, purple and dark grey shades. The layout and design is just fine for a site of its size; although I believe they might need to tweak it a little more; now that it seems to grow at a steady pace. A search tool here and more detailed scene descriptions could add a little more spice; if you like lots of spice in your meal. The spice is just fine for a couple of viewers. I was impressed with the browsing tools available. There is a list of categories that helped me learn what was on the menu without wasting much time. There is a free tour for the visitor to check out the action at a glance. I thought that is an ingenious idea. I could also use the model index to check out the best rated model or even the trending one. The sort filter allows users a couple of ways to search for what they want. There is even a list of tagged captions on the home page. These images are linked to the actual movie scenes. Although the site does not have an elaborate search tool, the alternative browsing options made my visit worth its while. I was impressed with the great quality images that that the content is presented in. Al the movies I watched were in top notch quality that made me want to keep watching. The pics are equally great. I could stream the videos and view photos directly from the site with ease. They have a robust Flash player that enables skipping scenes, rewinding and pausing as though you were playing your flicks on your local device. The site is fully tweaked for mobile access. I could check out the content from both mobile and Smartphone. If you love a couple of extras under your subscription, Burning Angel gives you more than a couple. There are over 20 sites on the network. Your subscribed plan determines the sites you are privy to.
Website Content
The girls are outgoing, stylish and daring. The content on the site is a beautiful mix of rare fetish with the wildness that stirs in all of us. The girls are superb at what they do. They are also attractive and sexy. They are captured in a range of sex stunts across the site and they just never seem to stop. There is plenty of cock sucking, some anals, girls going down at each other and some them choosing to savor the excitement that sex brings with their sex toys. If they could provide more bios for the hotties, I think it would further make the watching all the more captivating. I would like to point out that some of the fans of the site might differ with me in that respect though. The content you get on this site is exclusive; although since it's on DVD you might have watched it elsewhere. The videos are also updated regularly. There are over 88 active videos on the site. Some of these scenes are extracted from DVDs. The files are made in beautiful format options including WMV, MP4 and Flash. Each flick plays for 1.5 hours. There is a whopping 2150 galleries to visit. Each of them comes with 75 pics. There is a zip file too.

In Few Words
If you are turned on by sexy hot models that have a thing for the punk and rock style, you better join the raving and view the adventurous sex sessions on Burning Angel. The videos are sleek and exclusive. I loved the user friendliness too.
How much costs enter the BearFilms site?
3 days $2.95
1 month $29.95
3 months $22.98/month
1 year $7.95/month
Check out the best porn paysites OR read more on BurningAngel.com from other famous review sites.