Bromo.com Review
Bromo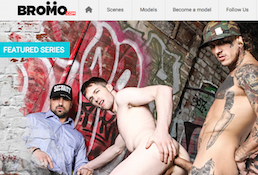 Bromo, enjoy over 15.000 gay porn videos perfomed by the hottest gay models.
00000
Bromo Review
Website Intro
Bromo is a gay porn site that has high quality contents and has models that come from different countries and backgrounds. Not only do they upload high definition videos but they also post high-resolution pictures of their homegrown talents and the scenes from their most viewed videos. Bromo guarantees an incredible experience and a roller-coaster ride of emotions when you watch their videos.
Website Layout
Bromo has a simple white background that helps in emphasizing their high-resolution posters and the high definition thumbnails of their videos on the site. It is efficient and easy to use because everything that you would need in order to be able to explore the site is at the upper left corner of the page and it stays in that position even if you switch pages. You can view their latest uploaded videos by clicking on the scenes section, they have thousands of videos that you can choose from and add to your collection.
You can also check out the models that they have by clicking on the models link, and the best part is that this site gives those who are interested in become a model a chance to be one. You can be a part of their team, all you need to do is fill up the form that is available in the "become a model" section and attach your pictures that feature your best assets. The site wants to be as interactive as possible because they wish for nothing but to give the best service to their members, which is why they made their own social media accounts such as Twitter, Instagram and Tumblr. Bromo is mobile friendly, so even if you are on the go, you can watch it on your phone by using their mobile version. They also have a 24/7 customer support available that you can chat and call in case you would need any help with any issue on the site or with the videos.
Website Content
The site has around 139 models and all of them are muscular, manly and charming. If you want to view the profiles of their models, all that you would need to do is click on the "Models" section and there you will see the pictures of their gorgeous male models, all of which are arranged in alphabetical order. The section features the names of the models, the number of likes that they got from the members of the site and the number of scenes that they did. They offer their audience a wide selection of male models, you can go for the rugged hairy men or you can also ogle over their clean shaven models. If streaming their scenes is not enough, Bromo provides a download link of their contents, so you can transfer the videos in your phone or other devices and you can watch the videos of your favorite model over and over.

In Few Words
There may be a lot of gay porn sites on the web but nothing beats the rough sex acts and the masculinity of the models of Bromo. With over 15,000 videos and 139 models, you will never run out of things to watch and men to fantasize about. Bromo is the best gay porn site that features rugged, bearded and muscular men showing how rough gay sex should really be done.
How much costs enter Bromo site?
2 days $1.00
1 month $17.99
3 months $16.66/month
1 year $5.83/month
Check out the other best pay porn sites OR read more on Bromo.com from other famous review sites.