BritishSexFilms.com Review
BritishSexFilms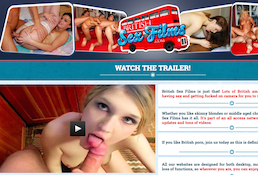 BritishSexFilms provides a huge collection of exciting British amateur porn videos. Enjoy great scenes and horny models, try now BritishSexFilms.
00000
BritishSexFilms Review
Website Intro
For some good old fucking and ramming hailing from the UK, I introduce you the BritishSexFilms. The BritishSexFilms isn't a porn site with a narrow audience. Anybody can come and enjoy its content without being stuck with a few choices of categories. If you like white chicks getting rammed in the good old ways, you'll surely like BritishSexFilms.
Website Layout
Although there isn't anything utterly captivating about the design itself, it is clean and functional. You can clearly view this site's content and it won't bother you with ads and other flashy banners. It has good looking thumbnails and a decent player, all allowing you to watch great content from this site. The visuals are good, they have nice details on this site. Every video is adorned with a description, you are surely not going to miss anything or misread anything since the thumbnails are relatively big. Even the visuals aren't that eye-catching, it is a part of this site that stands out a bit.
The colors used on this site are blue, red and white, probably taken from the UK flag colors. The navigation is fairly simple, allowing for everything necessary to be viewed through this site and to find the video that sits with you. Search bar and a tag option definitely ease the access on this website so that is a big plus. The website is also mobile-friendly and accessible from any mobile device regardless of what operating platform you are using.
Website Content
Girls on this site range from chubby to skinny. Mostly white, all horny, and big tits are not a rare sight on BritishSexFilms. These girls are beautiful, sexy, wild and will surely sparkle your imagination. They know what they are doing and how to do it, so you can have the best show in front of you. A varied cast and the fact that most of them look like good fucks give this site a real big bonus.
Activities include all sorts of things, so you can see these girls participating in anal, interracial, cumshots, lesbian and more. Actually, this site does have a lot of categories to choose from so even the most hardcore fetish loving among you will find something. The girls are mostly amateurs, but I saw some semi-professional girls too.
This site has around 200+ high-quality videos, but since it is a part of a larger network you will get access to even more videos. There are photo galleries that are connected to the shots so around 200 galleries are also included. The quality of the recent videos is great and it does appear that most of them are of high quality and value. Videos on this site run between 15-30 minutes each. As a member, you can download videos in MP4 or WMV format, or stream directly in a browser using Flash. There are no download or streaming limitations.
Membership plans offered here include a one-month membership, three months membership, and a yearly membership. This website is a part of the larger network called Real Sex Pass that holds around 2500+ porn videos. This network also hosts a considerable size of picture galleries. If you become a member, you will gain access to 19 bonus websites. This is something that will hook you on for sure.

In Few Words
Taking in consideration the amount of videos and the quality of them, it is necessary to be said that this is, in fact, a great porn website. It is connected to the network that host almost similar sites, mainly British ladies and lads. Membership plans are as usual and it is looking good.
How much costs enter BritishSexFilms site?
1 month $34.95
3 months $79.95
6 months $99.95